Chicago Scholars On Site event yields positive results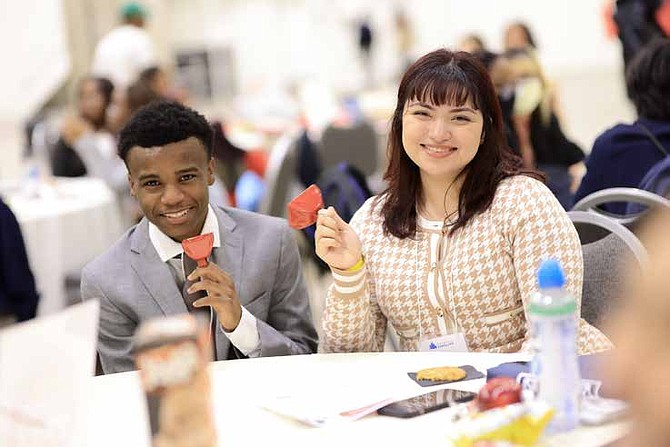 ---
 Chicago Scholars On Site event yields positive results

By Tia Carol Jones

The Chicago Scholars hosted its first On Site College event since the pandemic. It was an opportunity for students who participate in Chicago Scholars, as well as students from other community organizations, to get in front of college recruiters.

There were more than 750 students in attendance, 3,000 interviews took place and 941 offers of admissions were given to students.  There were 140 Colleges and Universities that participated, including the University of Southern California, the Colgate University, University of Chicago, Loyola University, Indiana University and Spelman College.

The Chicago Scholars was founded in 1996. The aim of Chicago Scholars is to train and mentor academically ambitious students, who are first generation and from under resourced communities, so they can attend and complete college. The seven-year program also assists students with leadership development to help them find a career.

For Chicago Scholars students, preparation for On Site begins in the summer, once the students become part of the program. Each month, students in the program are meeting with their college counselor, and their mentor in a cohort. The students learn what it means to find the right school.  They pick and identify the school that is the right academic and cultural fit. Students also have college application labs, writing labs and interview labs. The students had to apply to at least five schools and during the On Site, they had the opportunity to interview with those schools.

The Chicago Scholars' On Site event has been going on for 16 years. The idea was to get students in front of schools early.

"Most students in the process, haven't even started their applications yet. Whereas, our students, our seniors, are done. They are in school, and they are selecting schools. It's just a really unique, special event to get students early access to colleges," said Jeffery Beckham, the Chief Executive Officer at Chicago Scholars.

Beckham believes the On Site event is important because exposure to Colleges and Universities is critical to their success. There is also a leadership component, where resource partners were there to provide services and banking institutions talked about financial literacy.  Chicago Votes was there to register students to vote and organizations were also there to talk about mental health services.
Programming for parents during the event included workshops on how to pay for college, what to expect while the student is on campus and how to best support a young person while they are in college. Giving the students wraparound services of support is what Beckham believes makes Chicago Scholars and On Site so unique.

 Students and parents have expressed their gratitude for the event.

"Just to have the energy around and having people together, celebrating the prospect of education is really important," Beckham said. "You really are changing lives, changing the paradigm.  It's students taking ownership and doing the work."

Beckham was also a first generation College graduate. It's personal for him to watch students be overjoyed about education. He believes education is the highest form of social justice because it allows families to move from multigenerational poverty to prosperity. It is what education did for Beckham's family.

"It really is awe inspiring watching young people change the narrative of what it means to be a young person from Chicago.

 When we hear so often the negative tropes and things about young people from Chicago, then we see young people fighting for education, fighting for to thrive, fighting for their futures, it makes you proud to be from this city," Beckham said.

For more information about Chicago Scholars, visit www.chicagoscholars.org.
---