HIGH SCHOOL PRINCIPAL POURS INTO STUDENTS, STAFF AND PARENTS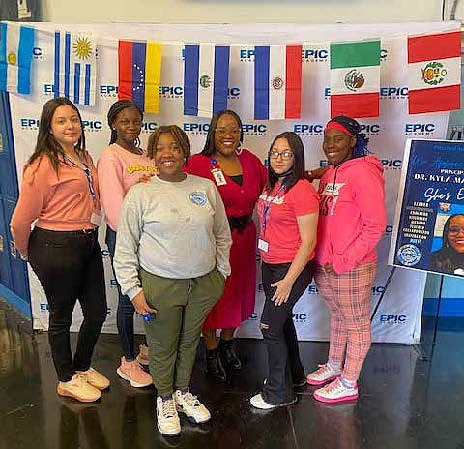 ---
High School Principal pours into students, staff and parents

By Tia Carol Jones
Dr. Kyla Mathews has been the Principal of Epic Academy High School since the beginning of the 2022-2023 school year. Dr. Mathews is able to pour into people because she was poured into.
It has been a great 10 weeks for Dr. Mathews. During that time, she has learned that students want to be valued and parents want to be heard. She has tried to model Antiracist Leadership.

"I see my people, I see my staff, I celebrate them on all the wonderful things they are doing. I also hold them accountable, because I am the principal," Mathews said. Dr. Mathews has challenged herself to
communicate, not just in English, but also in Spanish. Epic is about 50% Black and about 50% Hispanic.

Dr. Mathews wants her students to have Post-Secondary options, she believes they don't need to be siloed. Students take College and Career Skills Classes beginning in ninth grade, as a way to expose them to different options and not wait until the third quarter of Senior year for students to decide what they want to do after they graduate from high school. There also is an annual initiative called Career Intensives, a two-week project, with teachers and partners working together to assist students in a real world project. The teachers handle the curriculum portion, and the partners share industry information.

"Epic is a special place because we really take students' voices into consideration on a whole 'nother level, on steroids. You ask students what they want, and you actually deliver. Because Charter Schools
really don't have that type of reputation where they can actually deliver on what children want. Being a single site Charter School, I think Epic does a really good job of taking inventory on what children want," Dr.
Mathews said.

Last year, there was interest from the students in robotics. This year, there is more interest in droning, 3D printing and animation. The instructors, from NextWave STEM and Urban Innovators, are Black women. It is just another example of how Epic is exposing students to different kinds of industries. All of the teachers and instructors at the school are trying to impact children on every level, not just Monday through Friday.

Dr. Mathews has worked with the history teachers at the school to include diverse components of history, of Chicago, of the Great Migration, and Latin American history. Ninth grade students take African American History, 10th grade students take Latin American history, 11th grade take U.S. History, within a time period, and Seniors take Modern U.S. History.

"Chicago is an amazing city and we all arrived here with some sort of story. The Great Migration is really dear to me, as well as [as I like to say] my cousins, too. What I don't want is our current students to be so
detached from such a time in history," Dr. Mathews said that it is important that diverse history is told so children can find their identity. "Storytelling and being honest in schools about folks' identity is how we get students to buy into who they are and also, want to progress."

Dr. Mathews wants to ensure the connections between Epic and elementary schools is purposeful and personal. She is working to make sure people know Epic exists, by visiting elementary schools in the area.

For more information about Epic Academy, visit epicacademy.org.
---