DION'S CHICAGO DREAM TALKS ABOUT PROVIDING FRESH PRODUCE TO RESIDENTS IN A Q & A WITH THE CITIZEN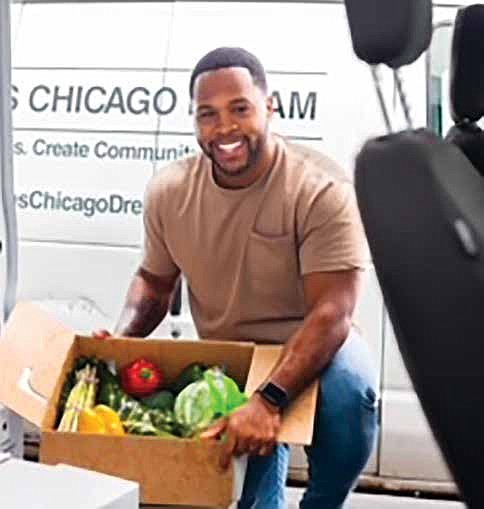 ---
Dion's Chicago Dream talks about providing fresh produce to residents in a Q & A with the Citizen

Dion Dawson, founder of Dion's Chicago Dream, started the
organization because he was not seeing any variety, change
or evolution in the philanthropic and nonprofit sector.

He wanted to do something new and different, and providing
fresh produce to the people in the Chicagoland area was something he wanted to take on, because of his own experiences with food insecurity.

Citizen Newspaper: Why is ending food insecurity something
you wanted to take on?

Dion Dawson: Food insecurity is something that I took on
because when we look at the critical needs, we have food, shelter,
and clothing. It's something that has plagued me throughout my
life and it's something that everybody needs. It's something that
universally binds all of us together. We all need food to live and
we want fresh food, because that gives us a better chance at living
a long life. So, you know, when it came to food, it was something
that I felt, I've been hungry I've been food insecure. it's something
that I can relate to.

CN: In September, you reached a new milestone. Would
you share that with us?

Dawson: September was important for us because we
eclipsed 200,000 pounds of fresh produce to Chicagoland residents. I think that is a testament to not only what we've been able to build, but that not a lot of organizations get to that milestone of 200,000 pounds of fresh produce, provided to the community, let alone, it being all purchased and not donated food.

CN: Where does Dion's Chicago Dream deliver fresh fruits
and vegetables?

Dawson: We're tackling food insecurity all throughout the
Chicagoland area. We're delivering in more than 23 Chicagoland
neighborhoods at about a 45-mile radius. We're at more than
2300 residents per week, at almost 400 homes per week and about 15,000 pounds per month. That is why what we're doing is so revolutionary because food insecurity is not a black or white issue. Food insecurity is a human rights issue, that we're focused on getting to the root of and making sure that everybody has the best possible chance at access to fresh produce.

CN: How important is it for you to have partners and supporters
as you do this work?

Dawson: Partners and supporters are crucial to the survival
of Dion's Chicago Dream. Supporters, they're everything. We
call our network The Dream Team. When it comes to those supporters, those donations mean the world to us because it allows us to continue to fight food insecurity our way. Every $20 is a week's worth of brand-new fresh produce that we can provide to
a household for that week. Every $1,000 provides a household
with fresh produce with Dream deliveries for the year. We're
accountable to our supporters. We're accountable to the public,
we're accountable to our residents, because that's what this is all
about.

CN: You recently began a partnership with the American
Diabetes Association. What are some of the ways this partnership
benefits the community, and specifically people with
Diabetes?

Dawson: This partnership with the American Diabetes
Association allows us to really focus on scaling this model that
we've created. We're doing everything we can to affect the
social determinants of health. We know that a vast majority of
people who have diabetes or are predisposed to diabetic conditions, that their diet and what they have access to plays a major role in that. It allows us to really start building out a continuity of care that will be unmatched just in terms of food distribution and consistency.

CN: How can people support the work you do?

Dawson: To support Dion's Chicago Dream, we encourage
everybody if they can, to consider donating to our website,
www.DionsChicagoDream.com. There, you can become a
reoccurring donor at whatever level you can afford. You can
also follow us on every social media platform. @DionsChicagoDream.

We're on Tik Tok, Twitter, Instagram, Facebook and
LinkedIn.
---