NEW CHEF-IN- RESIDENCE AT RETREAT AT THE CURRENCY EXCHANGE CAFÉ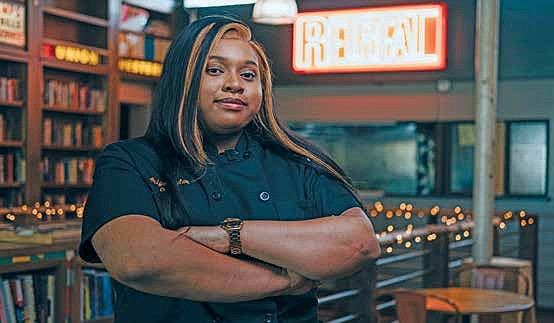 ---
New Chef-in- Residence at Retreat at the Currency Exchange Café

BY TIA CAROL JONES

Chef Ariya Taylor uses influences from her great grandmother, who is from Mississippi, and her great grandfather, who was from Louisiana. She also has her great grandmother's recipe book. She started cooking when she was 8-years-old. Those styles of cooking really played a part in how she cooks.

Taylor, a resident of Auburn-Gresham, is the newest Chef-in-Residence at Retreat at the Currency Exchange Café, located
at 305 E. Garfield. Taylor is the sixth creative entrepreneur to host a six month residency.

Taylor first knew she wanted to become a chef when she participated in the Chicago's Community Kitchens program at the Greater Chicago Food Depository in the later part of 2018. The 14-week job training program was an accelerated culinary boot camp. Being there every day from 7 a.m. to 5 p.m. was fun and felt really natural for her.

"I really developed my passion for food there, being interested in different techniques and how to cook and plate food, and playing with different flavors," Taylor said.

After that, Taylor interned at Nico Osteria. Then, she went to Publican Quality Meats, Bistronomics and Lux Bar. While there, she learned kitchen hacks and how to work in a professional kitchen. She also learned muscle memory, how to make a dish, and how to be quicker getting food out. Working in those kitchens helped her work on her speed.

Taylor found out about the Chef-in-Residence program at Retreat at the Currency Exchange Café because she worked with the previous Chef-in-Residence Dozzy Ibekwe.

Taylor is being mentored by Chef Ellison Park, who has worked
Lula Café, Parachute Restaurant and Income Tax Bar. She enjoys
working with Park. She described him as a cool, laidback chef.

"He gives me homework, which is beneficial to me, because
I don't know everything. He'll give me cookbooks and send me stuff on Instagram to enhance my techniques and my talents. it's really fun working with Ellison," Taylor said.

As a painter, Taylor really likes color and she brings that into her
dishes. As a visual artist, playing with different foods and different
colors really helps her create her dishes, especially aesthetically. She likes to use herbs, greens, and a variety of fruits. She described it as painting a picture on a plate, which for her is better than a painting.

Taylor's favorite dishes are proteins. She likes to make a good steak: good color, nice sear, medium. It is really fun for her to make and presentation wise, it is really cool. She believes a good piece of meat has a lot of flavor.

The dishes Taylor will create during her residency will be different each time. She wants people to see what she is creating and if it speaks to their heart, she wants them to come in and engage with it.

Taylor will serve a limited menu from 11 a.m. to 3 p.m. daily and from 5 p.m. to 9 p.m. on Thursday and Friday.
---