COOK COUNTY COMMISSIONER DENNIS DEER GATHERS NUMEROUS ELECTED OFFICIALS AND WESTSIDE MENTAL HEALTH PROVIDERS IN ANNOUNCING EXPANSION OF MENTAL HEALTH SERVICES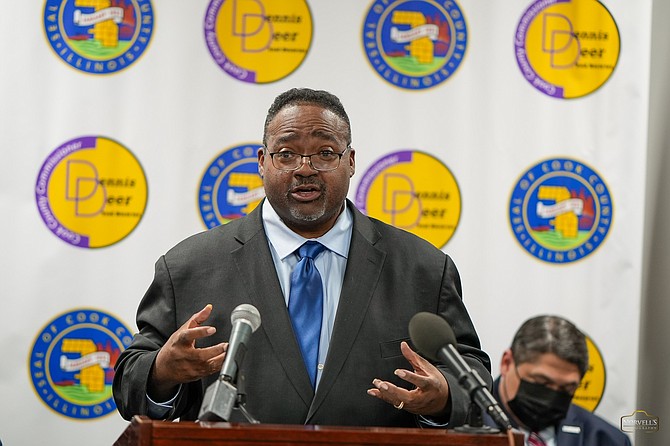 ---
COOK COUNTY COMMISSIONER DENNIS DEER GATHERS NUMEROUS ELECTED OFFICIALS AND WESTSIDE MENTAL HEALTH PROVIDERS IN ANNOUNCING
 EXPANSION OF MENTAL HEALTH SERVICES
Dennis Deer-Cook County Board Commissioner of the 2nd District- was joined by Cook County Board President Toni Preckwinkle, numerous elected officials, Cook County Mental Health Officials, and various not for profit Mental Health Executives as he publicly appealed to general public to become aware of the new and expanded mental health services being provided by  Cook County Health.
Commissioner Deer felt compelled to assemble some of the best providers of mental health to bring attention to the alarming post pandemic increases in anxiety and depression; but also, to highlight the latest programs and funding in which Cook County has initiated to address mental health.
"Beyond raising awareness about mental health, it is about taking concrete action and correspondingly providing appropriate resourcing and building a supportive system. I have worked diligently with President Preckwinkle and my fellow Commissioners to increase funding to offer more services to individuals who must deal with the mounting issues surrounding mental health." says Commissioner Deer.
Over the past four years Commissioner Deer has passed legislation to not only increase funding, but to also bring more attention to the ever-evolving dynamics of mental health. This includes passing legislation that recognizes the month of May as Mental Health Awareness month and declaring mental health as a public health crisis.
Commissioner Deer and President Preckwinkle detailed plans for an all-new Cook County Department of Mental Health that is being geared toward expanding. Of the $60 million dollars budgeted for this endeavor, $16 million will be used to expand personnel and mental health support at existing Cook County clinics.
President Preckwinkle added, "It is an honor to serve daily with Commissioner Deer and witness firsthand his passion and commitment to mental health. It was with his help that we successfully allocated 16 million dollars to begin establishing mental health programs to our existing Ambulatory clinics. This shows considerable progress in our efforts to bring more attention, services and programs to those citizens who need assistance."
Commissioner Deer asked of the Cook County Health professionals that were present to discuss their plans to offer new innovative programs for patients who look to Cook County Health as their provider. Given the enormous impact in which mental health is having on thousands of Cook County residents, Commissioner Deer is also continuing his advocacy of state funded programs now being offered to county residents.
"Governor Pritzker and President Preckwinkle have collectively increased the funding and awareness of mental health. For the first time in decades, there is a firm focus to help residents in their daily struggles of mental health. We must now promote these programs and services to offset the many potentially dangerous side effects of individuals suffering from diverse forms of mental health.
Confirmed attendees of this press conference included:
-  Commissioner Dennis Deer
- Cook County Board President Toni Preckwinkle
- Commissioner Bill Lowry
- State Representative Lakesia Collins
 - Israel Rocha - CEO of Cook County Health
- Dr. Kiran Joshi - CCDPH
- Dr. Rachel Ruben - CCDPH
- Alderman Michael Scott - invited guest
 - Dr. Nicole Harvey - Director of Constituent Development/Programs & Operations for Congressman Davis
- Tracie Worthy - Vice President of I AM ABLE
- Mark Mitchell - Associate Director of Teamwork Englewood
- Dr. Rashad Saafir - President and CEO of Bobbie E. Wright Comprehensive Behavioral Health Center
- Deana L. Perez LCPC - Clinical Director Behavioral Health Department Brightstar Community Outreach
Derek Brown - Founder and Director of Boing Out Negativity
Marcos Montes Mt. Sinai Hospital Behavioral Health Community Liaison
Maria Pike - Community Member – Who Lost a son to gun violence 
Ruben Johnson - Program Manager UCAN
---