SOUTHLAND PREP SENIORS CELEBRATE BEING ALL IN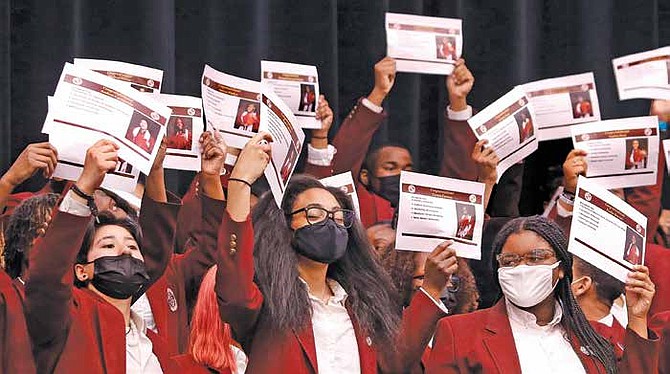 ---
 Southland Prep Seniors Celebrate being All In

By Tia Carol Jones
On Tuesday, May 3rd, seniors at Southland College Prep Charter High School celebrated the fact that all 115 have been accepted to college and have received $62 million in merit-based scholarships.

The 2022 Senior Class is the ninth graduating class at the school, which had its first graduating class in 2014. The 2022 Senior Class students were sophomores when the pandemic began and went through virtual learning, hybrid learning and in-person learning during the last two years.

"Our students faced unprecedented challenges and they faced every one of them and more than met them," said Dr. Blondean Y. Davis, CEO of Southland College Prep Charter High School and Superintendent of Matteson School District 162. "When our students succeed, we all succeed."

Myles Sanders will attend University of Miami, in Coral Gables, Fla., to study aerospace engineering and plans to become a NASA engineer. Sanders said his education at Southland prepared him to handle a heavy workload in a short amount of time. Sanders received a merit-based scholarship to attend the University of Miami. The scholarship will enable him to study abroad without financial restrictions and allow him to pursue all options of his interest.

Olumide Adesioye and Maya Moore are co-valedictorians. Adesioye had a 4.88 grade point average and Moore had a 4.86 grade point average.

Adesioye is a Questbridge Scholar who received a full scholarship to Brown University, in Providence, RI, where she will study human and health sciences. The lessons she learned at Southland Prep is how to handle multiple things at once. She remembers staying at school until 5 p.m. during her freshman year. She believes that experience prepared her for the stress of college.

"It also taught me how to uphold a good character through it all. Even when things got stressful, I had to keep a positive attitude and just keep pushing through it," she said.

Initially, Adesioye wanted to be a nurse practitioner. She was matched with Brown and decided to expand her options within the medical field. The Questbridge Scholarship will enable her to focus on classes without the stress of figuring out her finances. It will allow her to focus on grades instead of money.

Adesioye acknowledges the Class of 2022 has been through a lot. From having 5 p.m. days as freshmen to learning through a screen sophomore year to SAT Test in junior year and now to get to see everyone in the senior year, accepted to college. She is incredibly proud of her classmates and their growth.

Moore will attend Pomona College in Claremont, Calif., where she plans to study environmental science or environmental engineering. She started taking an environmental science class during her senior year and it was a class she enjoyed learning about. She plans to focus on climate change and wants to find ways to solve the issues happening all around the world. Moore studied Japanese for three years and wants to study abroad in Japan. She has really enjoyed learning the language and about Japanese culture.

During her time at Southland Prep, she learned time management and balance. She had to prioritize things in order to keep her grades up.
---