ISSA RAE TO SERVE AS 2022 AMERICAN BLACK FILM FESTIVAL AMBASSADOR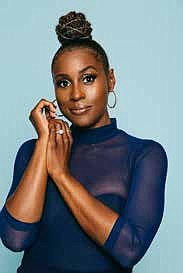 ---
ISSA RAE TO SERVE AS 2022 AMERICAN BLACK FILM FESTIVAL AMBASSADOR

LOS ANGELES – On Monday, May 2, American Black Film Festival Ventures LLC announced that multi-hyphenate star Issa Rae (Insecure) will serve as festival ambassador for the 2022 American Black Film Festival (ABFF). The festival, widely
recognized as a leading platform for Black content creators, returns live to Miami Beach June 15-19 followed by virtual events from June 20-30 on ABFF PLAY, https://abffplay.com/, the festival's
custom-designed online platform.

As ambassador, Rae will help bring media awareness to ABFF's 26-year legacy of showcasing Black talent and discovering new voices. Along with joining festival founders, Jeff and Nicole Friday onstage for welcome remarks during opening night on June
15, Rae will screen her highly anticipated television series RAP SH*T which she created for HBO Max as part of the festival's Saturday night lineup.

"I'm honored to be this year's Festival Ambassador," said Issa Rae. "ABFF was the first major festival to showcase my work and they continue to elevate Black creatives from the ground level. It's also fun as hell."

"It has been amazing to watch Issa shatter ceilings with her incredible sensibility to storytelling and her astounding achievements in the industry," said Nicole Friday, festival producer and president of ABFF Ventures LLC. "We have been admirers
of her work from the early days and salute her for remaining authentic and never forgetting the importance of elevating the next generation of emerging artists."

The American Black Film Festival (ABFF) is an annual event
dedicated to recognizing Black talent and showcasing quality film
and television content by and about people of African descent. Now in its 26th year, the festival has become a cornerstone of diversity in Hollywood, providing a platform for emerging Black artists – many of whom have become today's most successful actors, producers, writers, directors and stand-up comedians.

The ABFF is a property of ABFF Ventures LLC, an entertainment company specializing in the production of live events that promote Black culture and achievement.
---