Black Fashion Designers Create The Perfect Spring Looks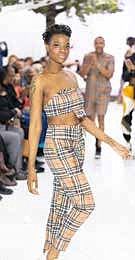 ---
Black Fashion Designers Create The Perfect Spring Looks

The  Black Fashion Week| USA runway event returned for its 7th annual fashion week over the weekend ending Black History Month and Celebrating Women's History Month in Chicago, IL. The event took place in Chicago, IL where it all began 7 years ago with a vision to highlight designers of color, promoting and exposing their brand aesthetics to the general public nationwide in key metropolitan cities.

The runway show featured six designers Dream Designs, Amara Blak, Bel Blak Couture, Thom Kat Fashion & Art Boutique, Stephane St. Jaymes and emerging designer Jonathan Thedford who all showcased their new & exciting spring 2022 collections.

The Designers who showcased with Black Fashion Week 2022
included four talented black women designers whose collections were full of vibrant, playful patterns, colors, dual textures in some of the most fascination silhouettes just perfect for the upcoming 2020 spring season proms, weddings
and festive occasions. Emerging designer Jonathan Thedford debuted his first ever fashion week collection which included beautiful two-piece evening ensembles with a focus on asymmetrical high/low skirts. The final designer of the runway included international Designer Stephane St. Jayme's born in London, but now residing in Chicago IL. His head turning collection featured a combination of classic black, and nude hues in eye catching nontraditional, yet futuristic silhouettes with dashes of ostrich embellishments adorning his garments. Beauty services were provided by Chicago's very one by Makeup First makeup artistry school along with Delali Robinson Cosmetics, 360 Blowout bar, Carla NaTasha & Studio 83.

The event took place live at the Royal Garden Banquet Halls located 2515 N. Harlem, Ave. and was hosted by Dr. Nakita Nicci "The Media Doctor" as seen on the hit Bravo's hit TV show "To Rome for Love." Guest enjoyed music by DJ sensation DJ Bsyde, delicious bites & treats from our featured chef, The Purple Ribbon Chef" drinks from Barefoot Wine and fabulous swag bags courtesy of Curls.Biz featuring a host of
products from sponsors such as Minovet, B Fragranced and Delali Cosmetics and Luster Haircare. Visit www.blackfashionweekusa.com to read more about each designer.
---