Banter by Piercing Pagoda appoints artist Tierra Whack as Creative Director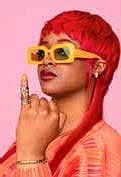 ---
Banter by Piercing Pagoda appoints artist Tierra Whack as Creative Director

DALLAS, PRNewswire -- Banter by Piercing Pagoda announced Grammy- nominated rapper, songwriter, and artist Tierra Whack as the brand's first-ever Creative Director. This collaboration
amplifies the brand's consumer-inspired focus, encouraging self-exploration and celebrating uniqueness. Known to be unapologetically herself, Whack will use her boundless creativity to engage customers with designs that elevate the brand's bold
spirit. As Creative Director, Whack has designed a capsule collection of jewelry in conjunction with designer Malyia
McNaughton, a member of the Black in Jewelry Coalition.

"We are extremely excited to welcome Tierra to the Banter family and are energized to share her creative energy and
fierce individuality with our customers," said Kecia Caffie, President, Banter by Piercing Pagoda.

"Bringing Tierra onboard will help amplify our ongoing
mission of inclusivity. Like our customers, Tierra is a creative visionary who rejects labels and celebrates her own unique identity."

In addition to the capsule collection, Tierra will be featured in an entertaining content series that documents her unique approach to becoming the brand's first-ever Creative Director. Like the freshly rebranded Banter by Piercing Pagoda, Tierra is vivacious and constantly invokes playful energy in everything that she does which will be shown in the content series that customers can engage with across the brand's social media channels.

"I'm excited to be the first-ever Creative Director for Banter by Piercing Pagoda and give a unique spin on what jewelry means to me," said Tierra Whack. "My fans have always been a great source of inspiration. Like me, they're all about celebrating creativity. I'm thrilled to now turn my attention toward creating jewelry that brings all our shared passions to life. I can't think of a stronger partner to do that with than Banter, who helps people
express their own unique style every day."

Further information on Signet is available at www.signetjewelers.com. See also www.kay.com, www.zales.com, www.jared.com, www.hsamuel.co.uk,
www.ernestjones.co.uk, www.peoplesjewellers. com, www.pagoda.com, www. rocksbox.com and www.jamesallen.com, and www.diamondsdirect.com.
---