Clinician wants to make therapy more accessible and inclusive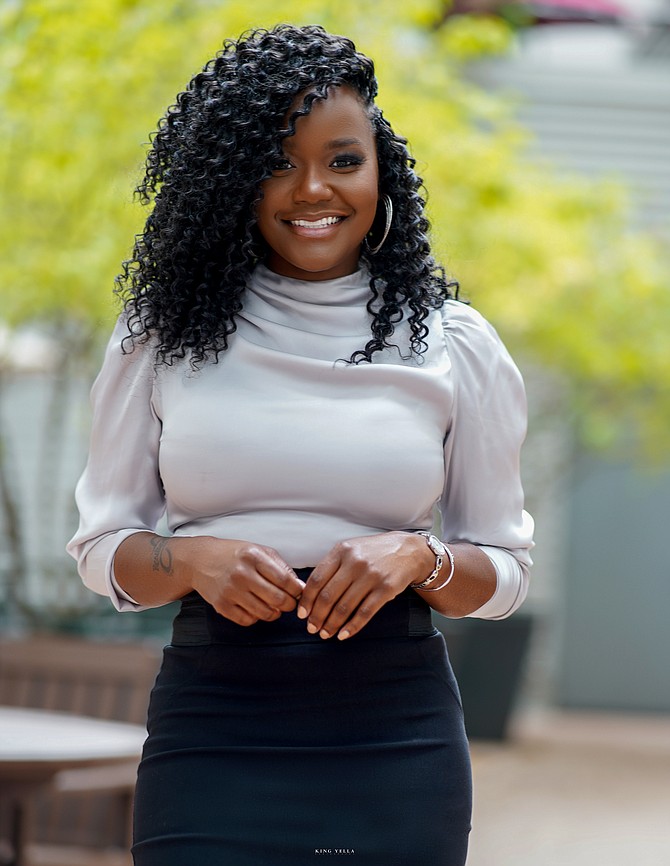 ---
Clinician wants to make therapy more accessible and inclusive

By Tia Carol Jones
Sharonda Brown, also known as Nya B, grew up on the South side of Chicago in what she described as a chaotic home. There was substance abuse issues and alcohol issues. As a result of that, one of her behaviors was anger and she would get into fights. She ended up becoming a mother at 16 years of age.

Nya B got tired of fighting and went to her high school counselor. The counselor suggested she buckle down and get her emotions in check. She didn't know how to do that. The counselor connected her to a mentor who would let her stay at her house. It would lead to her becoming emancipated.

With the help of the mentor, Nya B applied and got accepted to college in the southern part of Illinois. While she was sitting in her psychology class, her professor was talking about the maladaptive behaviors that looked a lot like her family. She became obsessed with identifying those issues and behaviors.

"It was just a lot of behaviors that I was like, 'I've seen those before, I've lived those before.' You mean to tell me that means something is wrong with our mental health?," she said, adding that it wasn't just her family, but others on the block.

Nya B wanted to study psychology and go back home to her neighborhood and teach her neighbors to identify with the issues and behaviors and get help. She realized people were going through trauma and mental issues and were not coping well.

Nya B wanted to figure out a way to get as much knowledge as possible and bring it to her people and share it in a manner they could understand so they could feel comfortable sharing and talking. She has been a licensed therapist for 21 years. She specializes in sexual abuse and trauma, as well as eating disorders, manic depression, and anger management.

Nya B believes that providing a safe space is important to do healing work because being emotionally safe is a thing and is a requirement for people to be their full potential selves.

"We don't just need physical safety, we need emotional safety.  We need to do that with people who are going to allow us to feel how we need to feel, say what we need to say, in order to get to the next phase of our lives," she said.

Nya B acknowledges that trauma can lead to being stuck and prevents the brain from moving forward and learning new things. A safe place is critical for healing. She compared not healing in a safe place to being in a war zone and fix a wound while bullets are still flying.

Black people often face barriers when it comes to seeking mental health services. Those can include relatability, finding people who can understand them; and/or lack of trust, they don't trust the person on the other end will care or value what they have to say.

 Racial consciousness of the clinician can be another barrier.
"If I'm going to someone who has never experienced racism, they need to know what it is like for me as a Black woman," she said. "A lot of times, because there are not a lot of therapist or clinicians of color, other people of color are not interested in going to sit next to someone who has never experienced being Black."

Nya B has had clients who have come to her, needing a Black therapist because clinicians before didn't have the cultural competency to acknowledge experiences outside of their own. It can lead to people seeking mental health services feeling misunderstood.

Nya B has made it her mission to make mental health services more accessible and inclusive. She believes everyone's concerns have to be included, not just those of middle-class white people. She wants to create an atmosphere where Black people can talk about substance abuse, sexual abuse and colorism, because those things affect them.

"It is my duty, before I leave this earth, to make sure whether I'm training an intern who is white, Hispanic, Asian or Black, we're going to include it all," she said.

Nya B also has written two books, "94th & Racine: The Roots of Me" and "94th & Racine: The Growth of Me." She is working on a third, "94th & Racine: The Evolution of Me." She called it her evolution of learning how to love other people, how to connect and be warm and actually have a successful relationship with a man.

For more information about Nya B. and her work, visit https://nya-b.com.
---