ESCAPING THE ODDS PODCAST HIGHLIGHTS FORMERLY INCARCERATED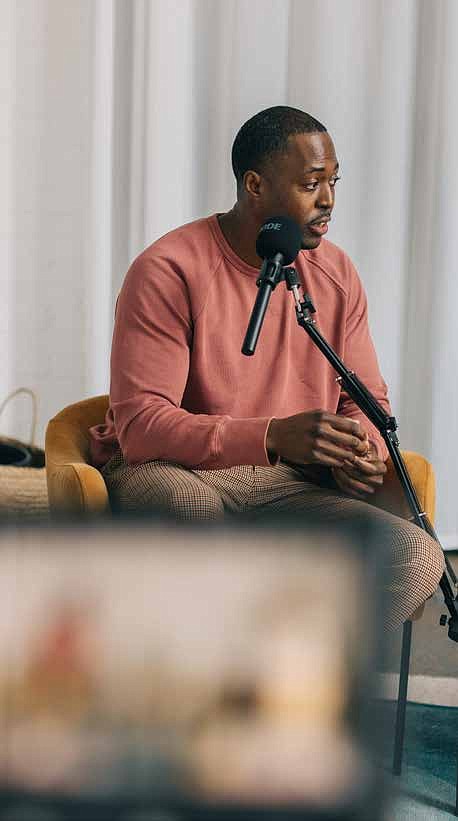 ---
ESCAPING THE ODDS PODCAST HIGHLIGHTS FORMERLY
INCARCERATED

Aaron Smith grew up on the city's South side in a home that valued
education. Smith always knew he would go to college. When he fell into the drug and street culture it changed the trajectory of his life. He was going to college and even graduated, with a business degree, but he also was selling drugs. This led him to get arrested, indicted and sent to federal prison for 12 years.

"It shook me up, no doubt and sent me back to the essence of who I was. I think I needed that. It did more good for me than hurt me. I had to have that kind of perspective in order to gain the insight
to change my life," he said.

Smith calls his time being incarcerated as his defining moment. He
became a father but couldn't raise his child because he was incarcerated. During his time, he got back to the essence of who he was, he started to dream again. He was always a businessman and a dreamer. He also got back to his faith.

Those things shaped his walk and who he is now. His faith became an
anchor during his incarceration. A lifelong learner, Smith took classes while in prison. He looked at his time in prison as school so he could make it through his incarceration. While incarcerated, he met men from all walks of life, who educated him on business. He was able to
build relationships with those men.

He wanted others to know what kind of people he had come in contact with during his time. He decided when he got out, he would create a podcast. In December of 2019, he created Escaping the Odds Podcast. The goal of the podcast is to shed light on the positive men he came into contact with. This February, the podcast will begin its third season.

"Also, I could use the platform as a way to teach business, because that was also a passion of mine. I would always have these conversations with these men about business anyways," he said.

Smith wants to change the perception of formerly incarcerated
people as business leaders in the community. He recorded 40 episodes the first season. The positive response from listeners let him know he was on the right track. Season two had 12 episodes. The first episode of season three is Smith telling his own story.

Escaping the Odds podcast features men and women from all across
the country telling their story, their entrepreneurial endeavors and how
their time away affected them, as well as what prompted them to start their own business.

Smith has started a business since becoming a returning citizen. U Turn Transport, a trucking company that hires returning citizens, and enables them to start their own trucking companies.

Smith is also involved with Stretch Finances, which provides banking for returning citizens and those who are incarcerated. It enables them to get a bank account, with a social security number as a verification process, and employment.

"I never thought my incarceration would spawn all of these different kinds of things, but it became my passion," he said.

Smith likes to say he went to prison on purpose. He didn't know it at the time but everything that came after it has been a positive journey. He looks at his life as paralleled with the story of Joseph in the Bible.

Smith hopes people will be inspired by the podcast and want to take a chance and a risk and bet on themselves. He wants listeners to hear the stories of the people on the podcast and know if they were able to do it, so can they.

"Everybody that's locked up aren't bad people. No doubt, there are people who need to be there, but there are a lot of men and women inside who, if they're given a chance, they can make something out of themselves and reach back," he said.

For more information about Escaping the Odds, visit www.escapingtheodds.com. For more information about Stretch Finances, visit www.stretch.money.
---