BREWMASTER TO GAIN INSIGHTS ON BEERMAKING WITH SCHOLARSHIP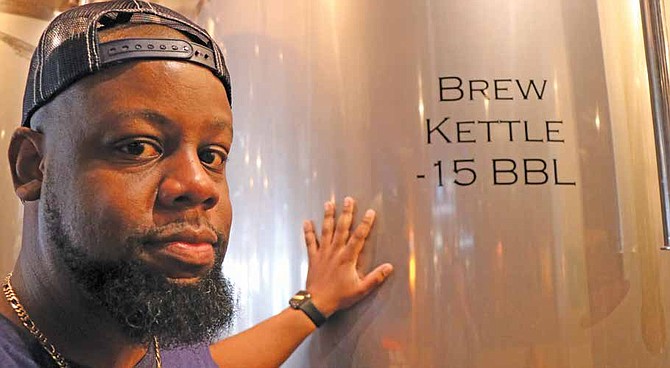 ---
BREWMASTER TO GAIN INSIGHTS ON BEERMAKING WITH SCHOLARSHIP

BY TIA CAROL JONES

Jay Westbrook's journey is one that has taken him from working in the corporate world to bartender to brewmaster. Now, Westbrook will be honing his skills as one of three recipients of the Illinois Brewers Guild's first Diversity in Brewing Scholarship.

The goal of the Diversity in Brewing Scholarship is to build a more inclusive, representative craft beer industry in Illinois by providing equitable access to education and technical training. The scholarship can be applied to one of two courses offered by the Siebel Institute and the World Brewing Academy. The scholarship covers the full cost of the course.

"Out of all the applications we received for our inaugural Illinois Diversity in Brewing Scholarship, Jay stood out from the very beginning," shared Ray Stout, the executive director for the Illinois Craft Brewers Guild. "From working with Haymarket Brewing Company on what has become a full-time production brew, to everything he does to affect positive change in his community. Jay is exactly the type of candidate who will put this scholarship to good use
and help shape the future of our Illinois craft beer industry. We can't wait to watch his career unfold!"

Westbrook was tired of the corporate world and wearing a suit every day. A social media post from Chef Cleetus Friedman peaked Westbrook's interest in doing something different. Friedman was looking for bartenders at the Theater on the Lake. Westbrook had been looking to break into the restaurant and food industry he wasn't receiving much feedback from employers at the time because he didn't have any experience.

Westbrook started at Theater on the Lake as a barback, then as a bartender, and went on to serve as the lead trainer for the employees. Getting to know the drinks and beers during that time Westbrook was fascinated and decided to make the transition to beermaker. It opened up a lot of doors for him.

Westbrook does not have formal training as a brewmaster. He is self-taught and a lot of what he has learned during the last five years has come from people who have been willing to sit down and show him how to make beer. He wasn't a home brewer, nor did he have any interest in doing that. He always envisioned he would be making beer
at the level where he is now. He just took a roundabout way
the get to it.

Westbrook has crafted three beers for Haymarket Beer Company, including the Harold's '83 Honey and one with Venn Brewing. Westbrook will be studying at the Seibel Institute as part of the scholarship. He described receiving the scholarship as an honor and being surreal.

"It also validated the hard work that I put in thus far, and it validates why I made the decision to do what I did, basically jump out of the window and jump headfirst into this industry," he said. "I just want to be a beacon of diversity, inclusion, equity and maybe somehow, some way, I can give someone the opportunity that so many of my mentors in this industry have afforded me. I just want to set the table for the next generation."

Westbrook wants to push the craft beer community forward and shine a light on people and organizations that share the same ideologies as he does. He describes the craft beer community as very welcoming, open and everyone is friends. He has never had anyone blatantly discriminate against him or mistreat him.

There are so many avenues into the beer industry -- whether it's creating the design for the label, blowing the glass the beer goes into; Westbrook wants people to be more aware of those parts. Westbrook will continue to grow his Black Beer Baron business and doing his purpose driven brewing, his own philanthropic style of brewing.

"Anyone can make a beer and that's what's so fascinating about craft beer, that anyone can legitimately do it. That's what's so great about it. I really want my beers to be an exercise in philanthropy, community and pull up and shine lights on organizations and people who are doing good in the community, not just the craft beer community,"
he said.
---