A VERTICAL GREENHOUSE Coming to the Pullman Community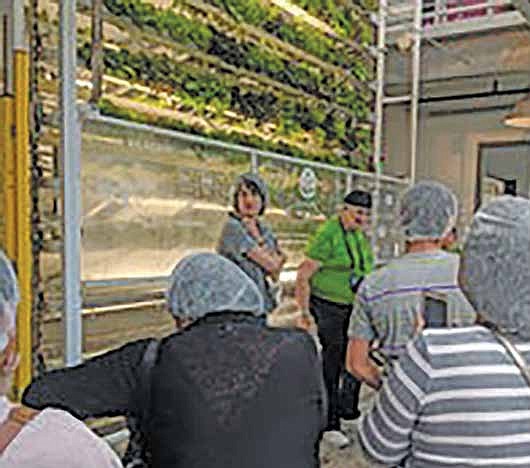 ---
 A Vertical Greenhouse Coming to the Pullman Community

BY TIA CAROL JONES
The Pullman location be will between 105th and 107th and Maryland. The hydroponic greenhouse will bring 55 jobs to the community. Construction is set to begin this year with a 2023 completion date.

A hydroponic greenhouse allows plants to grow in a solution of nutrients instead of soil. The advantage of having a vertical greenhouse benefits urban landscapes that do not have much open space. The four story, 63,000 square foot, vertical greenhouse also will be able to produce fresh, local food all year round. In addition to the greenhouse, there also will be an on-site market, a commercial kitchen and a food depository.

The Ninth Ward Alderman Anthony Beale credits a team, which
includes the Chicago Neighborhood Initiatives and US Bank, with
bringing companies and organizations that are looking to expand to
the community. "I think we do a very good job of telling the story of
the Roseland-Pullman community and when businesses come into
this area, they know they will be welcomed with open arms and we
can get the project done on time and on budget," Beale said.

Beale and the team have attracted different kinds of businesses
that create jobs and opportunities for the community. The 9th Ward
already is home to two Gotham Greens greenhouses, one built in
partnership with Method Products in 2015, and a second built in
2019. Having Vertical Harvest will enable the 9th Ward to continue
to address the food desert issues in the community and the city.

Vertical Harvest is being built next to the Pullman Wheelworks Apartments, a subsidized housing facility with more than 200 units. They also will give those residents an opportunity to get employment at the greenhouse.

"We're addressing the opportunities in the 9th Ward from a holistic standpoint.

We're addressing the jobs, we're addressing the food desert and the health desert that we've identified with this COVID outbreak,"
Beale said.

All of the development taking place in the ward is due to the team in place and their commitment to improving the quality of life in the community. Businesses also are seeing the community as a great place to expand.

Those businesses also are giving back to the community.
Beale acknowledged while it is the first time a vertical greenhouse
has been built in Pullman, he is up for the challenge. He is
confident that the project will be completed efficiently and will
benefit the residents in the community.

"CNI is excited to be part of the team that will work to help a
community experiencing high-levels of food insecurity gain access
to affordable and nutritious food," David Doig, President of CNI,
said in a release. "Addressing housing, employment, economic
opportunities, and access to nutritious food have always been the key
elements essential behind CNI's mission to create strong, sustainable
communities."

For more information on Vertical Harvest, visit https://verticalharvestfarms.
com. 
---