CHICAGO SCHOLARS WANTS TO INCREASE COLLEGE ACCESS WITH YOUNG MEN OF COLOR INITIATIVE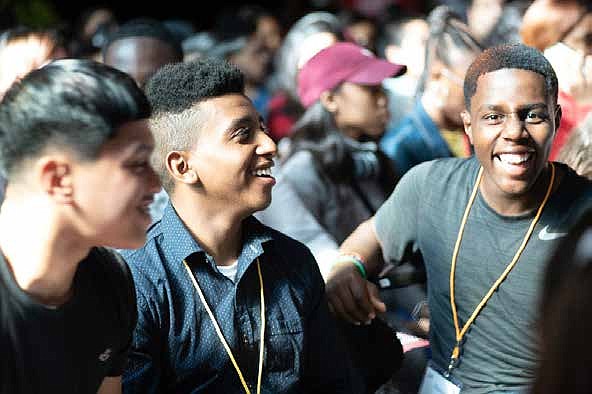 ---
 CHICAGO SCHOLARS WANTS TO INCREASE COLLEGE
ACCESS WITH YOUNG MEN OF COLOR INITIATIVE

BY TIA CAROL JONES
Chicago Scholars was founded in 1996, with the goal to provide
college access to students. Jeffrey Beckham, Jr., CEO of Chicago Scholars, wanted to figure out how to serve more young men of color in the City of Chicago through the organization. Derrick Fleming, Managing Director of Strategic Engagement at Chicago Scholars, was tasked with developing a strategy of serving more men of color. Fleming took his experience of 10 years and strategies around implementing violence prevention, increasing Post-Secondary pathways, using what he calls a nonprofit abundance mindset.

"In order to really develop root cause solutions to support
young men of color, we have to think differently around how to
engage and support them and provide opportunities for them,"
Fleming said.

Fleming has learned that nonprofit organizations have to figure
out how to work more collaboratively to maximize dollars and
resources and work better within nonprofits to cause social change.

Through the Young Men of Color Initiative, Chicago Scholars
has started intervention at the sophomore year. Before this initiative, Chicago Scholars worked with students in their senior year to get them to college, to graduation and to a career after graduation.

Fleming believes there is a need for theY oung Men of Color
Initiative, because 1 in 8 Black young men and 1 and 5 Latino
young men enrolled in Chicago Public High Schools will not complete a college credential within 10 years. T here are high disengagement rates among Black and Brown young men. Fleming wants to see interventions take place earlier in their high school academic career.

The intervention at the Sophomore Year, which includes partnerships with mental health organizations, to expose the students to what their lives can look like once they graduate from high school. Those organizations include Youth Guidance's Becoming A Man Project, Project One Ten and C.H.A.M.P.S. Male Mentoring.

"We know those organizations have a large number of young
men of color and Chicago Scholars knows that young men of color in our program graduate within six years, with a four-year degree at a 78% rate," Fleming said, adding that partnering with these organizations is an opportunity to create better pathways from those young men to get from one organization to the next, to support them so they can be successful once they graduate from high school.

While Fleming has been able to increase the number of young
men of color in the Chicago Scholars by 6% in the last four yeras, he knows there are more students who want to attend college.

Chicago Scholars currently is able to accept 700 students annually and has serviced 5,000 over the last 25 years. Partnering witht he school-based partners for the Young Men of Color Initiative, Chicago Scholars can increase the number of young men of color by 10% by 2025, which creates a bigger pipeline of students going to college.

Fleming added while Chicago Scholars is known as a college access organization, it also does college success and leadership development. These are the things that allow the students in the program to have success in college and enable them to go on to careers.

"The core of our work is about belonging, leadership development, it's about economic mobility. We want to make sure the students who enroll in our program who want to go to college, once they graduate from college, they have the least amount of debt as possible and they're going into careers and environments that really accept who they are and all the unique identities they bring," he said.

For more information about Chicago Scholars' Young
Men of Color Initiative, visit https://chicagoscholars.org.
---