Scottie Pippen and Orange Comet Team Up For Exclusive Metawear Digital Sneakers Collaboration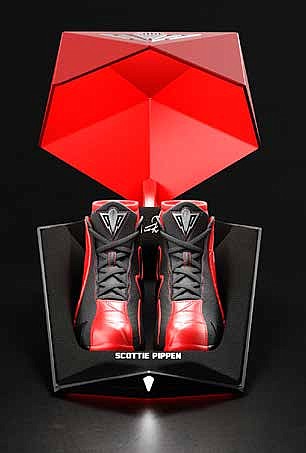 ---
Scottie Pippen and Orange Comet Team Up For Exclusive Metawear
Digital Sneakers Collaboration

LOS ANGELES, PRNewswire -- Orange Comet, Inc., a leading Web3 entertainment company, announces its collaboration with basketball
legend Scottie Pippen, celebrating the Hall of Famer's love for the game and his passion for sneakers. This original, dynamic, and limited edition
collection marks Orange Comet's debut into digital wearable fashion. The virtual wearable cross-platform sneakers combined with exciting utility introduces web3 and sneakerhead audiences to digital
wearables for the future with "Metawear."

Orange Comet's uber design team has created a series of unique worlds where digital and physical wearables will be born from: Modern Day, Futurist, Transcendent, and Planetary. Each NFT sneaker will not
only feature Orange Comet's signature 3D animations, but it will also be built as a Metaverse-Ready digital asset – ready to be worn in just about any ecosystem.

This special limited collection, dropping December 20th on OpenSea, will consist of only 1000 pairs of Pippen Sneaker NFTs, known
as the SP33 Collection. Inspired by Pippen's incredible legacy, the
company continues to elevate fan experiences — in and out of the
metaverse — uniting one of the greatest NBA players of all
time with fans in innovative and interactive ways never seen
before.

"I'm so excited to bring my fans a newfound way to be part of my life, my basketball career, and my love of sneakers through this special NFT collaboration with Orange Comet," said Basketball Hall of Famer Scottie Pippen. "I'm deeply committed to staying connected with audiences everywhere and the metaverse is making that possible by enabling
unique and out-of-the-box moments that bring people into my world on a personal level. This is such an interesting time in culture and it's been an
eye-opening journey learning about web3, and then getting to work with Orange Comet's creative team to launch this special and personal collection that speaks to the future of fan engagement and sneaker
culture."

This exclusive partnership with Pippen highlights Orange Comet's first foray into the fashion space as the company is making significant investments in its "Metawear" business to be known as Orange Comet Cørrupted, which will include HardWear for physical products and SoftWear for digital products, digital wearables, and digital experiences. Cørrupted wear will feature extraordinary one-of-a-kind wearables and in partnership with some of the biggest collaborations the industry
has ever seen.

Announced by Scottie Pippen on December 1, the collection combines Pippen's love for sneakers, his basketball legacy, and his curiosity
into web3 through the creation of his first metawear sneaker line with Orange Comet. All 1000 sneaker NFT holders will receive metaverse ready digital assets—ready to be worn in many different virtual ecosystems—plus additional utility benefits. Accompanying each pair of sneakers is a mystery box that can be claimed by each holder, which will
be unlocked in 2023 for those who hold on to it until the future reveal. The mystery box is intended to be  work-of-art, all on its own. Additionally, all 1000 owners of these metawear sneakers will
get Allow List access to Orange Comet's Cørrupted physical
and digital wearables coming in 2023.

The collection features exciting premium and rare utility. One (1) NFT holder (plus their one guest) will get a VIP hometown tour with Scottie Pippen to see where the legacy started. The experience includes a private dinner with the NBA legend. Two (2) NFT holders (each with a guest) at random will receive a private golf outing with Scottie
Pippen that includes a lunch after the 18 exciting holes. Thirty-three (33) NFTs holders will be randomly selected to receive a pair of physical sneakers autographed by Scottie, and additional thirty-three (33) holders will receive a QR Code to redeem $100 off any purchase from a notable sneaker lifestyle brand.

Currently, fans can sign up for exclusive early access to this NFT collection via the Scottie Pippen Allow List on ScottiePippenNFTs.com. In addition to early access, three hundred and thirty three (333) allowlist members' wallets will be randomly selected to receive a future free special edition Pippen NFT basketball presented in a state-of-the-art glass case, a true masterpiece on its own, designed by Orange Comet, gifted from Scottie Pippen to his allowlist members.

For the latest information and early looks at these sneaker designs, fans can visit Orange Comet's Scottie Pippen NFT collection at Scottie- PippenNFTs.com.
---