The Bronzeville Community Gets An EV Charging Station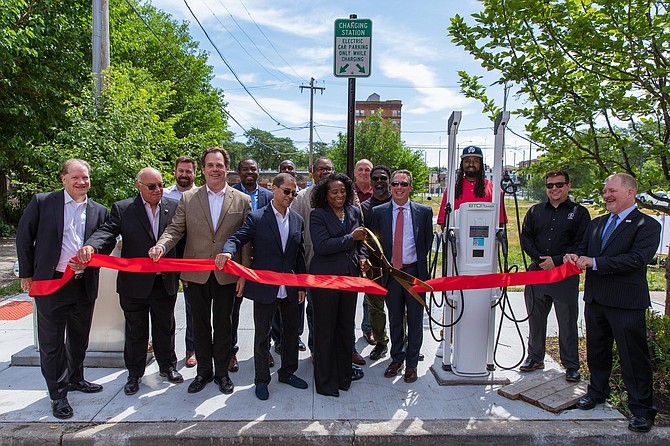 ---
The Bronzeville Community Gets An EV Charging Station
By Derrell Green
Citizen's DTU Intern
The State of Illinois is making monumental strides in efforts to go green. One of the ways that the state has been making efforts to go green is by pushing for the use of Electrical Vehicles(EVs). Commonwealth Edison Company (ComEd) is one of the major players in the movement.  ComEd is one of the country's largest utility holders, providing electrical services across northern Illinois for over 100 years.
On Wednesday, July 5th, ComEd's CEO Gil Quinones , the community and regional partners unveiled a new Multi-Unit Dwelling Charging station (MUD) in the southside community of Bronzeville. "The charging station in Bronzeville is one of five EV charging stations made possible through a grant by the US Department of Energy." said a ComEd spokesman.  MUDs are charging stations for multifamily housing—also called multi-unit dwellings such as condos or apartments.
One of the biggest concerns for EVs is the charging stations. Unlike hybrid vehicles, EVs can only be charged electrically. However, many communities lack charging stations, which hinders people from purchasing EVs.
"As part of ComEd's Community of the Future, we are working with community leaders throughout Bronzeville to identify technology and educational needs in the neighborhood. EV chargers are one of many projects identified. Some of these projects – including the installation
of the remaining EV charging stations,were put on hold because of COVID-19. We hope to announce the installation of the remaining chargers over the next year," stated a ComEd spokesman.
At this unveiling CEO Gil Quinones also unveiled a transformative new plan to advance beneficial electrification, including clean transportation, to empower communities moving toward EV use.
The Beneficial Electric (BE) plan, filed with ComEd's regulators at the Illinois Commerce Commission (ICC), proposes a 3-year $100 million annual investment to promote equitable access to EVs, to reduce Illinois' carbon footprint. One major feature of the Beneficial Electric (BE) plan is reducing upfront costs and by generating investments in changing infrastructure across ComEd communities in Chicago and across northern Illinois.
Air pollution is a common issue in big cities like Chicago because of high volumes of traffic traveling in and out of the city. Not to mention the pollution caused from factories and waste that are produced. This plan, informed by a broad range of stakeholders over the past several months, would deliver significant air quality improvements over the next several years and would improve the quality of life for communities most adversely impacted by air pollution.
Additionally, ComEd's BE plan would complement and accelerate federal and state initiatives aimed at improving EV adoption, including the State of Illinois' recently enacted Climate and Equitable Jobs Act (CEJA), which includes strategies to lower carbon emissions and enhance the quality of air, including a goal of putting 1 million EVs on the road in Illinois by 2030.
With all of the advancements and efforts that the State of Illinois is making, and with the support of companies like ComEd Illinois, Illinois is looking to become a lot eco-friendlier.  Cities like Chicago are shaping up to be a lot more greener for generations to come!
---