LEGISLATION BRINGS HEALTHY CHOICES TO CHILDREN'S MEALS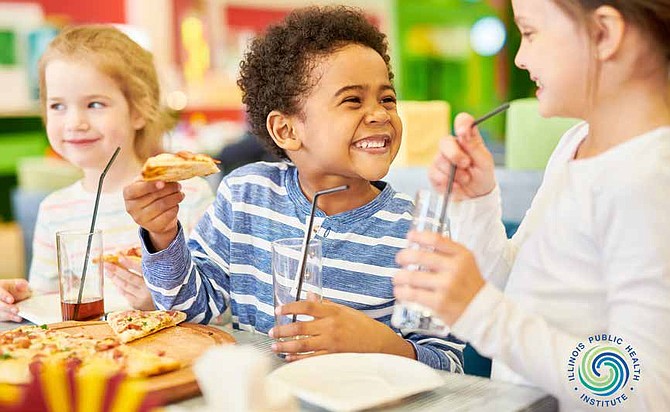 ---
LEGISLATION BRINGS HEALTHY CHOICES TO CHILDREN'S MEALS

BY TIA CAROL JONES
Illinois Senate Bill 1846, Serve Kids Better, was signed into law by Governor J.B. Pritzker and requires restaurants in the state that serve "children's meals" to automatically offer milk, water, 100%
vegetable or fruit juice.

Serve Kids Better is something Illinois State Senator Mattie Hunter has been working since 2003, when she began serving as an Illinois State Senator, working on health and human services
issues.

Diabetes runs in Hunter's family and is very prevalent in the Black community. Hunter worked with local, state and national heart, diabetes and cardiovascular associations, as well as hospitals
and clinics, to deal with health disparities and diversity in healthcare.

"I'm tired of seeing all of these Dialysis companies in my community with Black folks with kidney failure," Hunter said.

Hunter worked with the Diabetes Association and Heart Association to try to put a penny an ounce tax on soft drinks in 2014. Opposition groups who did not want the tax rallied and the measure failed.

After a couple of years, Hunter regrouped and introduced the bill,
this time reaching out to Restaurant Association, who were in favor of the legislation, and it passed.

Janna Simon, MPH, Program Director, Center for Policy & Partnership Initiatives with Illinois Public Health Institute, said the law is important because it will help reduce sugar available to children at restaurants.

"We know sugar negatively impacts kids' weight, mood, and behavior now, while also increasing their risk of heart disease, type 2 diabetes, heart disease and certain cancers later in life," Simon said.

It is the first time there is legislation requiring that the healthy choice is the automatic choice. Simon acknowledged there are restaurants who have been doing it voluntarily. This law will help
shepherd the 2/3 of restaurants who had not already taken up the behavior.

"I think it's been business as usual and we're starting to see a shift and a focus towards health. So, we know that little changes early in life can set kids up for a healthier future," Simon said. "And,
I think just the dynamic and looking at health disparities and the increase risk of type 2 diabetes and heart disease we're seeing in our Black and Brown communities have really shifted folk's
focus on what can we do, what foods can we offer and make it easier for folks to be healthier."

Simon believes the legislation is an opportunity to change the world around us and make it easier for parents to find healthy options for their children. Other ways parents can make sure children have health options: Keeping kids active throughout the day, looking
at sugar content, eating lots of fruits and vegetables, and advocating the places where they go serve healthy foods, from
restaurants to community events.

"Communities can really come together to think about the people who are providing food and to think about how the food options available to us are affecting our choices," Simon said.

Hunter is happy that after all her years of trying to get the legislation passed it is and has been signed by the Governor.

"Since I've been a legislator, we've been working on progressive legislation like this all of my legislative career. I've had lots of successes and I just add this to the list," Hunter said. "I just add this to the list and move on to the next issue that we're trying to do to reform the health and human services field so that we can save more lives."

The law will go into effect January 1, 2022. The hope is restaurants will update menus to reflect the change before the start of the New Year so children can have healthy choices now.
---