WOMAN ATHLETE CREATES PODCAST FOR STUDENT ATHLETES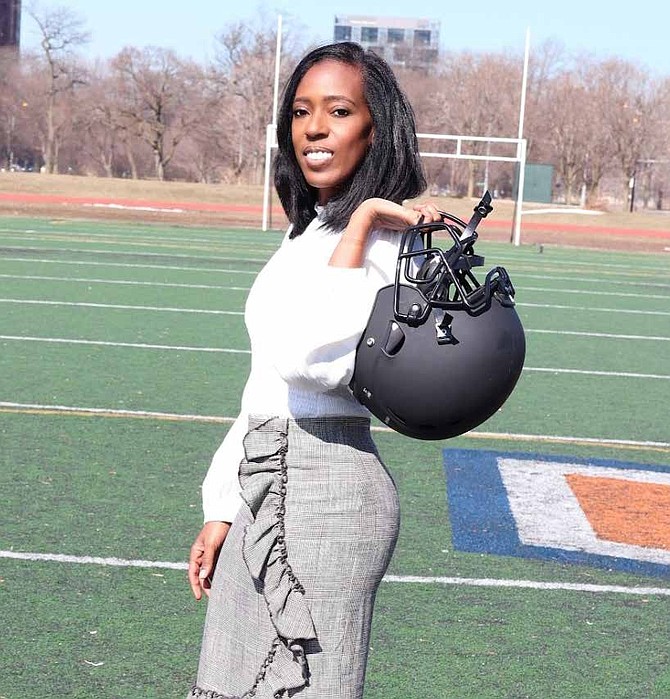 ---
Woman athlete creates podcast for student athletes

 BY TIA CAROL JONES
Michelle Dunham, who also is known as MissFitt, is doing her part to raise the profile of young women student athletes with her podcast, "Ladies Ball Too."

Dunham knows what it is like to be a woman athlete. She plays professional football for the Birmingham Bombshells, a Women's Football League Association team in her hometown.

Dunham, who also is an attorney, has always been active, running track and field, playing basketball and volleyball. Growing up in Alabama, she played football with the guys after school and on the weekend. Dunham didn't play organized football until she moved to Chicago, starting with a co-ed flag football league. Then, she played for an all women's flag football league and started travelling. She found out about an all women's tackle football league in Detroit and played with them.

Dunham's coach told her about the Women's Football League Association. Throughout her journey in football, she advocated for equal pay for women players. She thought the WFLA would be a great platform for her advocacy.

Dunham's podcast, "Women Can Ball, Too," came out of her advocacy to make sure women are paid to play the sport. While she played and traveled, she discovered it was a small world. She got to know the other women professional football players. As she started talking to them, she saw their passion for the game and heard their stories. Being part of a league can be expensive, players are paying out of their pocket for equipment and to travel to games. "I look around, and like me, I see these young girls out there, playing these sports, playing football, softball, and they're putting their time and money and effort into it," she said.

Oftentimes girls can play a sport for years, put their all into it, and at the end of high school or college careers, they decide to drop it and do something else, because there is a lack of professional game or sports playing. The podcast is geared toward young women, middle school, high school and college aged girls.

"I wanted to create a platform for them to come and be seen by different scouts and recruiters. And have a platform for
them to display their talents and get visibility while I, on the other side, work to create a path for them to be a professionally paid athlete and get paid to do what they love," she said.

On the show, student athletes who Dunham calls "student female ballers" talk about their sport and education. Then, a professional is brought on to give tips and pointers on how the baller can cultivate their craft and give them support and encouragement. A couple of "ballers" have been contacted by recruiters from appearing on the podcast.

Dunham believes the reason for the pay disparity when it comes to women athletes is that they don't have the same kind of support men have and there aren't many big officials sponsors for professional women's sports.

"We don't have women in the C-suites, and in these boardrooms that sit and help create corporate initiatives that trickle down," she said.
 
Dick's Sporting Goods has created an all women's board to take a look at why do women not continue to play sports professionally after high school or college.

"I think once we get the representation at the higher level we will be able to interject about the inequities and open the eyes of people who make the decision so we can get that backing and support can get paid for what we're doing," she said. "I see there has been a change in the environment in the last couple of years in pay equity and equality in general."

For more information about Michelle Dunham, visit www.missfittlawyer.com.
---