CIVIL RIGHTS ACTIVIST AND CHICAGO HISTORIAN TIMUEL BLACK DIES AT 102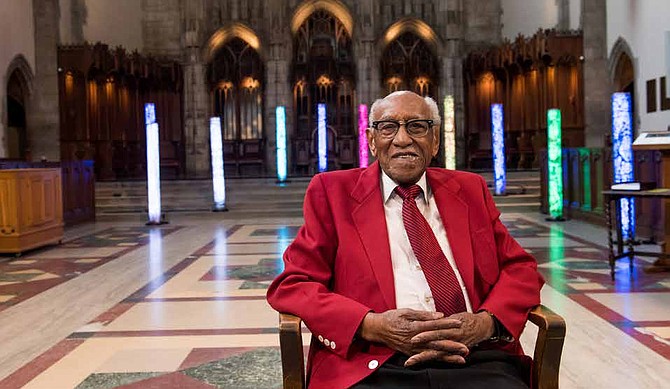 ---
 Civil Rights Activist and Chicago Historian Timuel Black dies at 102

BY DEMARCO TRAMMELL

Activist, educator, historian Timuel Black, who has been active in every vital
American movement, died at the age of 102.

Black passed away on Oct. 13, 2021. He is survived by his wife Zenobia Johnson and his daughter Ermetra Black. His sons, Timuel and Anthony, passed away at a young age. "Timuel Black was a towering intellect, passionate leader, and generous mentor. I just visited with him on Monday
October 11th. He was a trusted advisor and dear friend. We worked closely on education issues as he was a member of the DuSable High School Alumni Coalition. He was the driving force behind the landmark designation
of the school. One of my proudest moments as Alderman was passing legislation that created a street sign in his honor on 49th and State Street. I was humbled that he enthusiastically served as a Chairman of my campaign for Illinois Secretary of State. My sincere condolences to his wife, Zenobia, and all who loved and admired him. We lost a pillar of our community today. His legacy will live on," 3rd Ward Alderman Pat Dowell
said in a statement.

Born on December 7, 1918, Black was the youngest of three children of sharecroppers in Birmingham, Ala. In 1919, his family moved to Chicago where they settled in the Bronzeville.

Community. In 1931, during the Great Depression he walked his first picket line as a store clerk protesting for better wages for his co-workers. At 23, Black was drafted into the army during World War II where he earned
four bronze battle stars. He was part of the Normandy invasion, he fought in the Battle of the Bulge, and visited the Buchenwald concentration camp, in Germany. Black attended Burke Elementary and DuSable High School. In 1952, he graduated from Roosevelt University with a Bachelor's Degree
in Sociology, and received his Master's from the University of Chicago in 1954.

Along the way, he helped to establish the Teachers Committee for Quality Education, the Congress of Racial Equality and the United Packinghouse Workers of America.

In 1960, he worked with Dr. Martin Luther King, Jr., when the civil rights leader came to the city to protest housing issues for poor residents living on Chicago's West Side. Black also helped organize a contingent of 2,000 Chicagoans that would attend the historic March on Washington.

For many years, Black was a professor of social sciences at the City Colleges of Chicago and was Vice President of Academic Affairs at Olive Harvey College in 1972. He taught courses at his alma mater Roosevelt
University and lectured at DePaul University and Columbia College.
In addition to his work in activism, he had a long history in politics. He's ran for public office several times, including Chicago's 4th Ward Alderman, State Senator of the 22nd district, and State Representative of the 22nd district.

Black was also instrumental in the election of the late Mayor Harold Washington, the first African American Mayor of Chicago. Additionally, he served as a mentor to former President Barack Obama. In 1991 Obama he sought out the advice of Black when he wanted to get involved in activism.

Near the end of his life, he was still making an impact on the City of Chicago. According to ABC7 Chicago, he recently joined the University of Chicago- led Community Advisory Board in order to bring the Barack Obama Presidential Library to Jackson Park. Black also was the first inductee into the Illinois Black Hall of Fame and in 2018 he was awarded the French Legion of Honor medal for his role in Normandy.

A public viewing took place on Thursday, Oct. 21, at A.A. Rayner & Sons Funeral Home, located at 318 E. 71st St. A private funeral service took place on Friday, Oct. 22, at First Unitarian Church of Chicago, located at 5650 S. Woodlawn. A public memorial service for Black will take place on
Wednesday, Dec. 5, at Rockefeller Chapel, located at 5850 S. Woodlawn.
---