LOCAL DESIGNER'S CLOTHES FEATURED AT FOOT LOCKER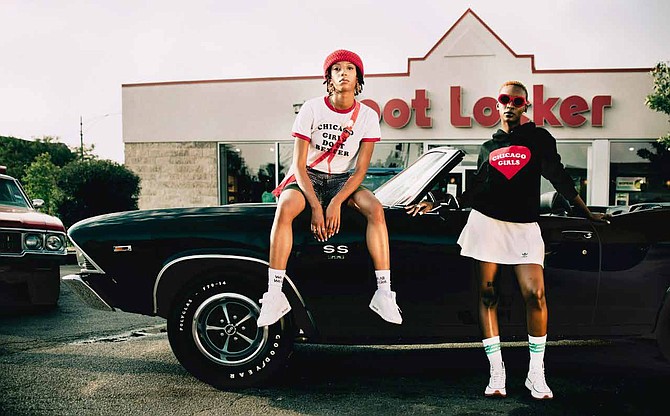 ---
Local designer's clothes featured at Foot Locker

BY TIA CAROL JONES

When Des Owusu hosted a pop-up of his collaboration with Foot Locker, "Remember the Good Times," at the Foot Locker on 87th and Cottage Grove, he did it intentionally.

It was the Foot Locker Owusu's father would take he and his sister to when they got good grades on their report card. It
showed him if he worked hard, we could get what we wanted.

"I have an idea of what my brand can do, what I can bring, so I wanted to be intentional about bringing that type of energy to an area that doesn't necessarily see that all the time," he said.

Owusu is a local designer and the founder of We All We Got and Chicago Girls Do It Better. He grew up as a streetwear kid. It was always his dream to have his own product to have something
he thought was cool and have something people could connect to.

"Being raised by parents that came from Africa and being raised in the City of Chicago, it's all about the village, it's all about community. Just growing up under the idea of brotherhood, sisterhood, and bringing people together, I feel like it was in me subconsciously," Owusu said.

Owusu wanted a brand that spoke to bringing people together, and the We All We Got was the most fitting name for that.

Owusu would go to Leaders in his 20s and it was his safe space. He saw Black men running a business and create a space
of culture for young people, and it motivated him to start his brand. He called those men – Corey Gilkey, Vic Lloyd and Ty Mathis -- mentors and examples of what creative Black men looked like. "Just being around those guys and seeing the community built around retail, is something that really spoke to me. It gave me that interest to create a brand," Owusu said.

Foot Locker's Home Grown platform was created in 2019 as a way to showcase local designers who are up and coming. The goal is to give minority retailers and small businesses a chance to become a part of Foot Locker and learn what it takes to have a collaboration with the company. Past Chicago collaborations include Fake Decent, Gratitude Chicago, Jugrnaut, Icon The Collection and Hooligan Brand.

Michael Charles, Community Marketing Manager for Foot Locker, used his expertise and knowledge of Chicago to come up with brands that would resonate and engage with consumers. Charles recognized the product Owusu was putting out with We All We Got and Chicago Girls Do It Better and the way it served as an inspiration for the community.

"We want to make sure that our customers know the things they shop for in the store, we're paying attention to the things they're wearing, the questions they're asking when they're coming into
the store looking for certain products, that we're providing those products. For us to do a collaboration it's just the ultimate. We really want to engage and show our consumers that we're really in the community," Charles said.

Owusu's creative philosophy when it comes to fashion is that fashion is at its strongest when it can lift up communities. It has the ability to instill confidence and inspiration to see clothing created by Black people with messages that resonate with Black people.

"I want the youth to always feel like the sky's the limit. For me to be able to take over a big box store, even if it was for a day, I think speaks to that," he said. "It's not enough if I just do it. I want people younger than me, people who come after me, to buy the next Foot Locker, or create a better Foot Locker, or create a brand that has a certain type of appeal and power to really uplift communities."

For more information on We All We Got, visit www.weallwegot.co. For more information on Foot Locker, visit www. footlocker.com.
---