Alicia Keys To Perform Special for SiriusXM and Pandora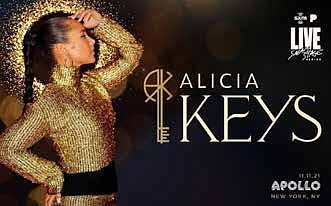 ---
 Alicia Keys To Perform Special for SiriusXM and Pandora

NEW YORK PRNewswire-- SiriusXM announced today that 15-time GRAMMY ® Award winning artist Alicia Keys will return to her hometown, New York City, to perform at the world-famous
Apollo Theater in Harlem for a special, intimate, and exclusive
invitation-only concert for SiriusXM subscribers and Pandora listeners on Thursday, Nov. 11. The special performance
in Keys' hometown is a part of SiriusXM and Pandora's Small Stage Series.

Alicia Keys' return to the Apollo will feature Keys in all her glory and musical greatness as she performs her fan favorite hits as well as music from her latest album Alicia and preview all new music from her forthcoming, highly anticipated eighth studio album, including the sultry and timeless new single, "LALA." This is the first in a limited series of one night only shows Keys will be doing.

"I love the Apollo," Keys said, "The vibe there is magical. There's so many songs I can't wait to play! Everyone has always told me my voice would be perfect to host a radio show,
and with my limited SiriusXM Channel, we're gonna have a ball!"

The performance will air on SiriusXM's Heart & Soul channel
6 p.m. EST Tuesday, Nov. 16. The concert will also air in its entirety on Alicia Keys' exclusive SiriusXM channel Alicia Keys Radio via satellite (channel 48) and on the SXM App at 8 p.m. EST and PST Friday, Dec. 10.

SiriusXM's Alicia Keys Radio will feature music from the
GRAMMY® Award winner's career, featuring her biggest hits as well as live performances. Listeners will hear her favorite
collaborations, duets and artists Keys has influenced. Artists
featured on the channel will include Christina Aguilera, Estelle,
H.E.R., Jack White, Janelle Monáe, Jay Z, John Legend, Khalid, Maxwell, Miguel, Usher and many more. Alicia Keys
Radio will launch on Tuesday, Dec. 7, and run through Thursday, Jan. 6. on the SXM App. Additionally, Alicia Keys Radio will be available via satellite (ch. 48) on Friday, Dec. 10, through Thursday, Dec. 16.

To maintain the highest public health standards and/ or requirements, SiriusXM will adhere to health and safety protocols for the venue, and all state and local health mandates
to protect attendees, staff, and artists.

The legendary Apollo Theater—the soul of American
culture—plays a vital role in cultivating emerging artists and
launching legends. Since its founding the Apollo has served
as a center of innovation and a creative catalyst for Harlem,
the city of New York, and the world. For more information,
visit www.apollotheater.org.

SiriusXM and Pandora's Small Stage Series features performances with premier artists spanning music genres
and styles, and comedy, and held in small iconic venues.
SiriusXM and Pandora launched its Small Stage Series
in August and to date has announced performances by
Brandi Carlile, Coldplay, Dave Matthews, Glass Animals,
H.E.R., J Balvin, J. Cole, John Mulaney, Kane Brown, Kenny Chesney, Michael Che, Nathaniel Rateliff & The Night
Sweats, Shaggy and Twenty One Pilots.

SiriusXM is available to subscribers in their car and on their phone and connected devices at home with the SXM App. Streaming access is included for most subscribers. Go to www.siriusxm.com/ ways-to-listen to learn more.

For more information on Alicia Keys, please visit www. aliciakeys.com.
---