RESIDENTS AND STAKEHOLDERS BEAUTIFY COMMUNITY
5/26/2021, noon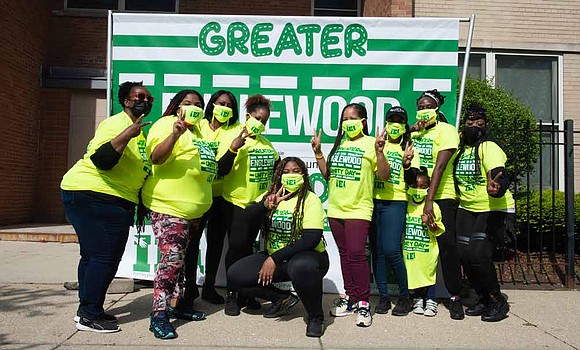 Residents and stakeholders beautify community

BY TIA CAROL JONES
     Greater Englewood Unity Day was the brainchild of Jane Carter-Hill, co-founder of Imagine Englewood If… Hill was devoted to having people connect, communicate and collaborate.
     Now, in it's eighth year, the event brings together residents, stakeholders and elected officials. There were more than 300 volunteers
who participated in this year's event, where they cleaned up 100 blocks and vacant lots and beautified the Jean Carter-Hill Community Garden.
     Imagine Englewood I… was founded by Carter-Hill and Helen Arnold Massey in 1997. The mission of the organization is to empower and strengthen the Greater Englewood community, and it offers programs for young people ages 6-18.
     Michelle Rashad, executive director of Imagine Englewood If…, said the event has grown so much from the first event, with a small group of leaders and organizations to more than 300 volunteers. She said a lot of
families came out. "It's a feel good event that really shows the greatest power that exists within the Englewood community and that is the people. The people coming together to unite, clean and celebrate all that greatness that is within the Englewood community," she said.
     Rashad said the growth of the event throughout the years with Carter-Hill's vision shows that there is unity in community.
     "When we look at some of the issues that the Greater Englewood community face, one of the greatest resources the community has is
the people, the organizations, the businesses who have committed to really improving the quality of life in the area," she said.
     PepsiCo was invited to support the event and volunteers from the company participated. Armando Saleh, director of government affairs for PepsiCo, said one of Pepsi's oldest bottling facilities is located
in Englewood. Saleh said 40 percent of the employees at the facility on 51st and Union live within a three-mile radius of the plant.
     "When we talk about we have to invest in the communities where our employees live and work, that's an abstract if you can't really show what that work really is. I think the opportunity we had on Saturday to have a
small group of associates come out and take part of this kind of hands-on event where we rolled up our sleeves, got our shovels and got to work. The excitement our folks had in being a part of that was great," he said.
     Rashad said PepsiCo could have simply written a check, but they organized associates to volunteer at the event. "When we're talking about how we come together to stand up for this community, it's really
about having skin in the game, it's about actually showing up and actually putting in work. But not just doing it in silos, doing it
in a way that shows we're standing together, that we can work together," she said, adding whether it's in volunteering or in designing
programs for the community.
     Saleh said while organizations need financial support, the key is to leverage the resources a company can bring to a community so that it is a sustained partnership.
     "Budgets change from year to year but the passion of our employees to volunteer in the communities that are right outside our doors, that is something you can grow every year, and you can encourage and it becomes its own asset," he said. "I think that's what the programming and the work Imagine Englewood is doing around both youth and
health. It's a lot of programming that really aligns with what we want to be involved in. We want to be supportive."
     Rashad said the event affirmed that there are diverse ways people are connected to the Englewood community. "As we've seen the event grow and what we've seen on Saturday is there are so many people who are connected to this community, through various means. Whether you went to school here, you worked here, you have a factory or
company right next door, you ran for office or you currently hold office." Rashad added that really "speaks volumes" as to how they can push forward as a community.
     For more information about Imagine Englewood If …, visit www.imagineenglewoodif. org.