OOOH WEE IT IS OPENS LOCATION IN CHATHAM
3/31/2021, noon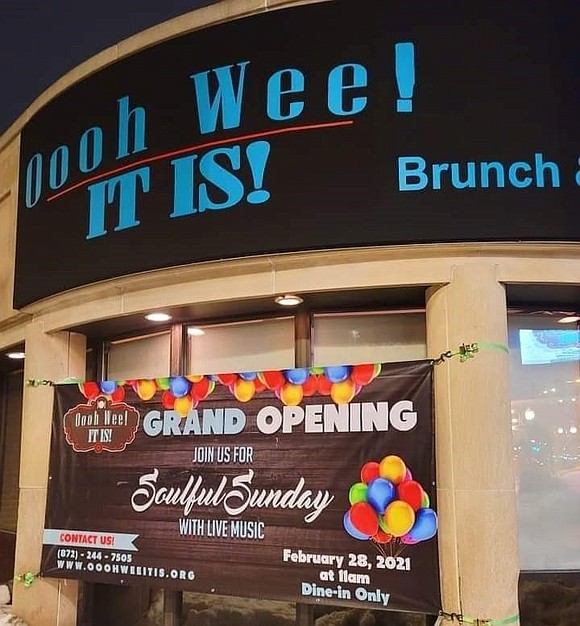 Oooh Wee It Is opens location in Chatham
     Mark Walker parlayed his successful Oooh Wee Sweet Tea business into a carry out restaurant in Burnham, Ill., last October. Now, Oooh Wee It Is has a location at 33 E. 83rd St.
     Walker said he spent a lot of years in Chatham, his family home is in the neighborhood. He said when the opportunity to purchase the location became available, he jumped on it. The site was once Mather's More Than a Café.
     Walker said he was up against some people who also wanted the space. Some of those plans included a church, a day care, as well as another restaurant. In the end, Walker was able to get the site.
     Walker said he and his wife, Shae, collaborated on the menu. He said they knew they wanted to offer soul food, but wanted to do something different.
     "You've got a lot of different soul food restaurants that have been staples in the community, down through the years, but they never did anything different. It was just always the norm. So, we decided to do soul food with a twist," he said.
     Walker said he wanted to cater to the "seasoned citizens" as well as to the millennials. The menu includes lamb chops, fried lobster, oxtails and grits, fried green tomatoes and smothered shrimp and rice.
     "We do Hennessy and Patron wings, just to get that other crowd in and get people a taste of something different, that you wouldn't get in your own community," he said.
     Walker said the most popular items on the menu are the pot roast and the Hennessy wings. He said those are the top sellers. Oooh Wee It Is also features local Black-owned food products that include Michele's Syrup, Riley's Ribz Sauces and Essie Marie's Dressing & Marinade. These items are also for sale at the restaurant.
     "I've been following a motto down through the years since I started business six years ago, whenever I get to the top, wherever that is, I would make sure there were some people there I know … It was just my thought to get other people who offered any and everything to sell," he said.
     Walker said the opportunity is available for other local Black-owned food products to get featured at the restaurant. He said he wanted to give others an opportunity to launch their products and sell their products.
     Before Oooh Wee It Is opened, there was a Thanksgiving Meal giveaway for the seniors. It also hosted a Valentine's Day meal giveaway and love token. Walker said he plans to do it at the restaurants locations as long as they are open.
"We know there's no way we can continue to thrive without a strong customer base and without giving to the community we serve," he said.
     Walker said there are plans to open another Oooh Wee It Is in Maywood and in another suburb. He said the buzz about the restaurant has been phenomenal. He has opened two locations during the COVID-19 pandemic in less than a year. He said there are shirts at the Chatham location that read, "Pandemic Where?"
     "We have yet to experience the pandemic in terms of our customer base. We're constantly growing, lines constantly out the door," he said. "We just feel like it's a need, it's a void for good food, good customer service and great presentation. And, that's what we strive to offer."
     For more information, visit ooohweeitis.org.