SKILLED WORKERS PROGRAM LAUNCHES WOMEN-ONLY COHORT
3/24/2021, noon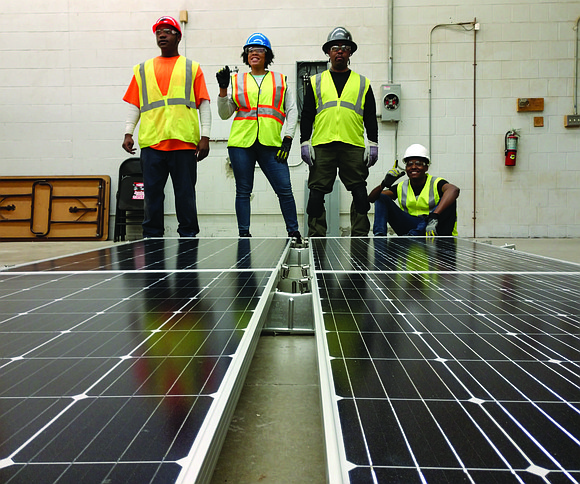 Skilled workers program launches women-only cohort

BY TIA CAROL JONES

   Project H.O.O.D. (Helping Others Obtain Destiny) recently began an all-women's cohort of its popular Communities Builders program.
       Project H.O.O.D. is a not-for-profit organization established by Pastor Corey Brooks in 2012.
      The mission of the organization is to empower people by providing programming to youth, adults and families in the Englewood and Woodlawn communities.
     In its third year, the free, 12-week program is a partnership between Project H.O.O.D and the Associated Builders and Contractors, Inc., Illinois Chapter. The goal of the program is to create employment opportunities for underrepresented communities. Since the program began, more than 100 students from 10 communities have been trained.
     Brooks, CEO of Project H.O.O.D., said the organization wanted to partner with Community Builders because they made themselves accessible to the community and showed a willingness to want to do something for the people in the community.
     "A lot of times, organizations don't reach into our communities and help those who are the most marginalized and left out. And, the fact that they did, speaks volumes. We wanted to partner with people who are concerned about the plight of our community," he said.
     Brooks said Community Builders benefits the community by providing training for individuals to get into an area that is growing vastly – the trades. He said it provides individuals who participate in the program with access to employers they otherwise, might not have access to.
      "It gives them the training that is needed to connect the employers, with those individuals who are trained, so they can get jobs to take care of their families and make our communities a better place," he said.
     The women-only cohort is geared towards women who are interested in the electrical trade. At the end of the 12 weeks, those who successfully complete the course, will receive a core credential, level one electrical and OSHA 10.
     There was also a carpentry class, first and second level. Brooks said they are working on providing HVAC and plumbing. In addition, he said there was a discussion during a staff meeting about ways to support women by helping them to get into career fields, adding, he couldn't think of a better way to help women to do that, in March, which is Women's History Month, than to do a women's-only cohort of the program.
     "We thought it would be a really great opportunity, and we found out that there was a lot of response. So, this definitely won't be our last class," he said. "Our last carpentry class, we had a record number of women involved. This opportunity, we had more than 60 women register, which says they're starting to be interested in this field. And, they should be, because it is a great opportunity."
      Brooks said Project H.O.O.D. wants to be able to open up the doors to this kind of opportunity for women to get the training, which is desperately needed. Classes for the cohort started on Monday, March 15.
     According to Brooks, there were some serious adjustments made in the program due to COVID-19. He said the pandemic hindered the program and caused delays. For example, the hands-on nature of the class and the number of participants had to change. The class size was reduced to 18, but Brooks added, there is a move to get a second cohort to accommodate the other applicants.
     Brooks said he has spoken to women in the program, and they have various reasons why they wanted to participate. He said there are women who own property who want to learn the trade so they can better take care of their own property. Others have a strong interest in the electrical trade field and want to get jobs in the profession, he said.
     "It's a diverse group of sisters from a diverse group of backgrounds and all of them seem to be really excited about the opportunity and about this class," he said.
     For more information about Project H.O.O.D., visit www.projecthood.org.