SENATOR SIMS REFLECTS ON CRIMINAL JUSTICE REFORM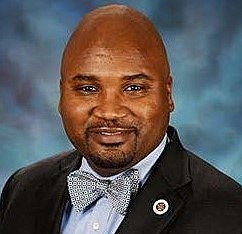 ---
 Senator Sims reflects on Criminal Justice Reform

BY TIA CAROL JONES
     The Criminal Justice Reform Bill, HB 3653, also known as the Safe-T Act, was signed into law in February. Elgie Sims, Jr. who serves as state senator for the 17th Illinois Senate District, sponsored the bill.
     The 17th Illinois Senate District includes the South side of Chicago, South suburbs, as well as Will and Kankakee counties. From 2012-2018, Sims served as Illinois State Representative for the 34th District. During that time, he passed the Bail Reform Act of 2017.
     While doing research for the Bail Reform Act of 2017, Sims found that people were being held in Cook County Jail because they couldn't afford bail because they were poor.
But HB 3653 puts an end to the practice of the cash bail system in Illinois. It also focuses on safety in communities, police accountability as well as fairness and equity in the criminal justice system.
     Moreover, within the Safe-T Act, there are investments and changes to professional policing, including but not limited to, a duty to intervene and whistleblower protections for police officers.
     "We all watched the very painful eight minutes and 46 seconds of George Floyd's life be choked out of his body," Sims continued. "We watched that in horror, but we also watched as other officers stood by and did not do anything to stop it. So, we wanted to create this duty to intervene for police officers and also create these protections for officers who do stand up and do the right thing so they could not be retaliated against," he said.
     The Safe-T Act also requires that law enforcement officers reside in the city where they work, if the city population is comprised of 100,000 people or more in order to meet residency requirements.
     "When you have a personal relationship with the person living next door to them, you can see them through their humanity, as opposed to seeing them as a born suspect," Sims said. "When you have these changes, you have the ability to look at these individuals through the lenses of their humanity, your outcomes and your treatment is different."
     Sims said the Safe-T Act is one of the most pro-reform, pro-advocate, pro-community, pro-safety bills that has ever been passed in the state of Illinois, as well as in the rest of the country. He said it makes Illinois a model for the nation for criminal justice.
      "I am proud of the work of advocates and activists and them having a seat at the table and being involved in these discussions in a way that has never happened before," he said. "I'm so proud of how they have been able to engage with us in this moment and create this amazing policy and these changes and the way we view criminal justice in this state."
     He added, the Illinois Legislative Black Caucus seized the moment, under the leadership of Kimberly Lightford, former senate majority leader. He said they were galvanized after the civil unrest of 2020 and came up with the pillars including criminal justice reform, police accountability, violence reduction, education and workforce development, economic empowerment, healthcare and healthcare access.
      Sims said while he is proud of the work done to pass the law, he said there's still more work ahead, adding that, reimagining public safety is not just a slogan. It's a change in mindset. "It's a change in what we do, it's about who we are.      Because the Safe-T is not just about who we are as Illinoisans, it's about who we strive to be. And, we cannot say that we are all about freedom, we are all about equality, and not live that. That's hypocritical. Until we face that, we are not going to progress," he said.
---