Business owner uses fashion jewelry and brutal honesty to help heal emotional pain
3/17/2021, noon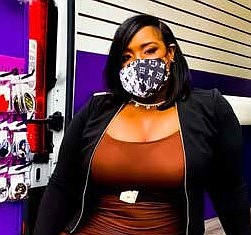 Business owner uses fashion jewelry and brutal honesty to help heal emotional pain

     What do earrings, eye lash extensions, and emotional growth all have in common?
     Emotional Support Advocate, Kia Waters, correlates the latest fashion trends with her weekly Web Series: Healing, Wine, & Storytime, a pillar of her EarringEverything brand.
       EarringEverything.com is an effervescent fashion jewelry brand in Atlanta, Georgia, created by military veteran, black-owned business owner, and Registered Nurse Kia Waters.
Waters created the sparkling brand tohelp women regain their confidence through fashionable finery that inspires women's empowerment.
      Besides the affordable pricing and Lifetime Warranty on her prismatic accessories, Waters aspirations pledge deeper than styling her shoppers. "Kia" as she prefers to be called, achieves this by offering an immersive experience into her
life through her weekly web series "WATCH LIVE: Healing, Wine, & Storytime" streamed live on Instagram & Facebook. Her casual delivery and animated storytelling is creating major buzz, with both shoppers, fans, and the emotional support community. She reveals destructive stories about her life experiences, living through, and growing from personal tragedies designed to encourage, inspire, and uplift those
healing from emotional pain.
    Following her confessionals, Kia reveals tips that she used to heal her psyche following turmoil and hopelessness. It is her raw emotional transparency that keeps her audience watching, relating, and using her tips to heal from their own emotional pain. Waters' take-away with each show is "I was destroyed,
now I'm an asteroid." Making light of her rise from depression, and that now she is stronger than a fireball. Waters has created a "text family" where she personally releases inspirational voice notes throughout the week, via text, to uplift and support subscribers. This is also a two-way platform to speak directly with her via text. She also offers One-on-One
Confidential Inspiration Sessions, where she listens, offers support and practical tips toward emotional healing and growth using specific actions.
     Recently, she has teamed up with August Snow, owner of Eminent 8 Hair Salon, to create StyL•I•Nfection. StyL•I•Nfection is an Atlanta-based, beauty sect, that consists of industry- leading professionals providing services during organized events. The stylists use The Glam Van of Atlanta
(Waters' state of the art Mobile Beauty Salon) to offer beauty services in outdoor settings. The beauty faction promotes self-care, self-esteem, and total wellness through beauty enhancement services. Their number one goal is to uplift, inspire, and increase the self-confidence of their clients. Connect with Waters at InfiniteWaters360.com to shop EarringEverything.com, to learn more about and to collaborate with her, and to watch Waters' web series "WATCH LIVE: Healing, Wine, Storytime" Friday nights at 9pm. For booking, call 808.900.4151 or email Kia@infinitewaters360.com.