SEAWAY BANK REOPENS TO THE PUBLIC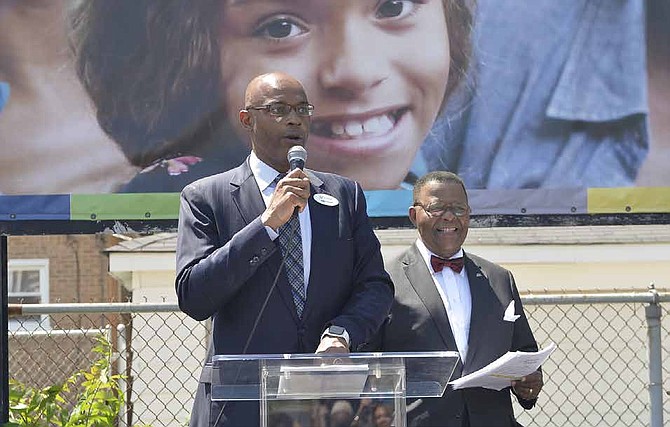 ---
Seaway Bank reopens to the public

BY TIA CAROL JONES

    Seaway Bank, which has been a part of the Chatham community since the 1960s, is a division of the Self Help Federal Credit Union.
The 40,000 square foot facility now houses Neighborhood Housing Services of Chicago and has space for community gatherings, as well as offices for non-profit organizations and small business tenants.
     Eighth Ward Alderman Michelle Harris toured the building and said it looks amazing. She banks with Seaway and said everything is new and fresh. "It's an amazing facility for the community and
I think it's what the community needs.
     This project makes people feel good. So, when people walk in that bank, they feel good. They feel proud this is their bank.
     It's nice to have a bank that services so many people of color and they have an awesome facility to do it in."
     Daryl Newell, president of Seaway Bank, said it is a really good feeling to have the bank open to the public again.
     "The institution has been in that location for a really long time, through decades and a couple of generations. So, it's important that we continue to operate our financial services out of that facility for the community and the residents, for which it was founded, who still reside there," he said.
      Newell said, in the old days, everything associated with a bank was inside the institution's walls. He said, now with the cloud, operations are not housed inside the facility.
     He said not having all the operations in house, really shaped the footprint of the credit union.
      Newell added, there were several community charrettes to find out what the community and block clubs wanted to see in the facility. Chatham is known for its single-family homes and businesses,
so it was important to include their input in the renovation of the building, Newell continued.
      Newell said, because the building was built in 1965, the kinds of materials used and technology has changed throughout the years.        Seaway Bank wanted to think about possibilities, and that played into how the facility was mapped out.
     In the basement, there is a community meeting facility. There is also a Legacy Hall, with photos of well-known Black people.
    Neighborhood Housing Services of Chicago is located on the first floor. "I think we did a really good job of just trying to make sure we continue to deliver service," he said, adding, a drive-thru was placed on the side of the building. "Trying to give people the amenities they
want."
     Newell said Seaway Bank wanted to make sure it worked in the spirit of the bank. It worked with Brooks Architecture, headed by RaMona Westbrook. He said there was minority participation on
the project, which was important.
     Seaway Bank works with Neighborhood Housing Services a lot, as well as with My Block, My Hood, My City, Newell said. He added, in the atrium between Seaway Bank and Neighborhood Housing Services of Chicago, Chicago State University will have artists
showcase their work. "We'll just give them their space and let them do what they do," he said, adding Chicago State University will curate the artists whose work is shown.


---