FOUNDER EXPOSES YOUNG PEOPLE TO WORLD OF TAP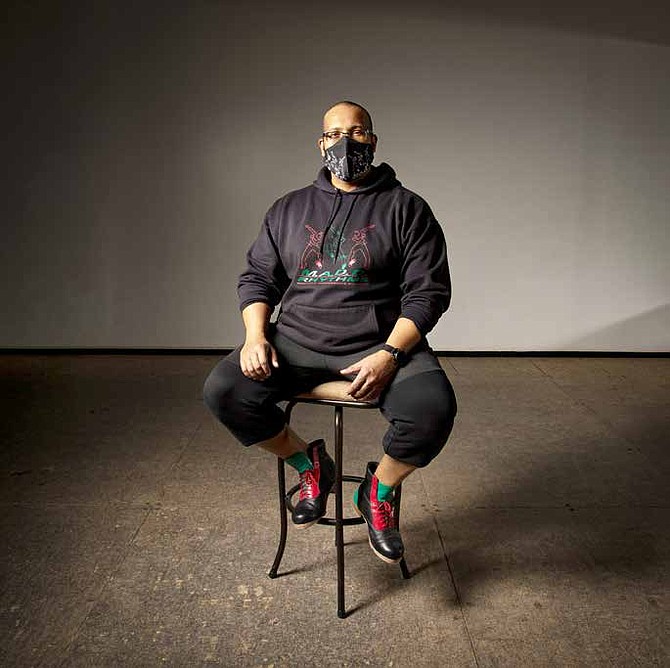 ---
 Founder exposes young people to world of tap

BY TIA CAROL JONES
     Bril Barrett considers himself a taptivist. The founder of Making A Difference Dancing Rhythms and M.A.D.D. Rhythms Tap Academy spent his whole life wanting to be a professional tap dancer. "At a certain point, I decided that I wanted to try and help expose young people from the community like me to the art form, to offer it as a solution, or possibility for an option for them, as well," he said.
     Barrett was teaching and volunteering and it evolved into M.A.D.D. Rhythms in 2001.
He wanted to show young people the beauty of tap dancing. It started out as a training company, then a production company, presenting shows, then the training academy.
     Barrett said at the shows, young people would say they wanted to learn how to tap dance. Then, the Chicago Tap Summit was created as a way to bring people from all around the world to Chicago and study tap dancing with M.A.D.D. Rhythms.
     "It was a way for me to give back to my community through the art form of tap dance, in a way that if I hadn't been exposed to it, I don' know where [I] would be now," he said.
   Barrett added, a full circle moment for him is to train the children and siblings of the first students he taught. "I call myself a taptivist because I find myself, as a Black man in America, and also as a tap
dancer, dealing with the Black art form, that has often been subjugated and relegated, just like its creators, I find myself always find myself fighting for the honor and respect of the art form," he said.
   Barrett said his grandmother encouraged his mother to put him in tap dancing and the arts. He said, when he was younger, he went to a community center in North Lawndale. He said he went into
the theater, his cousins went into sports, and he has never looked back.
     Barrett said teaching was never his goal, it was a way to pay the bills in between being on tour. He noticed each time he left and came back from the road, he had to re-establish himself on the
local scene. He said he wanted a home, something he could create and come back to when he came off the road. He also wanted to bring his younger brother alongside him to keep him out of trouble
and was focusing on young Black men when he first started M.A.D.D. Rhythms.
    "I wanted to show young Black men this art form, just like it had been shown to me," he said, adding his little sister wanted to know why it was just for boys.
     Barrett said M.A.D.D. Rhythms serves everyone from the novice to the professional, from the studio to the stage and is a full pipeline in one facility. M.A.D.D.  Rhythms is also an arts partner in residence at the Harold Washington Cultural Center, located at 4701 S. King Drive.
     "I like knowing that a young Black child can walk in from off the street into the Harold Washington Cultural Center, never knowing what tap was, never having seen a tap shoe, but can leave there a
professional tap dancer," he said.
     M.A.D.D. Rhythms has a Tap for Tots program, starting at age 2. Then at age 5, they can go to Tap Academy. From 14-18,
there is the Afterschool Job Training Program. At 18, they can be in the Pre-Professional Apprenticeship Program, which allows them to study with the professional company. After that, they can audition
for an opportunity to become a member of the professional company.
    Barrett said, oftentimes, children are exposed to different things but "after they leave us, they go back to the world they come from" and it's not the same. "So, I was intent on trying to build that
step ladder that would allow them to stay with us all the way to professionalism, if that's what they choose," he said.
    For more information about M.A.D.D. Rhythms, visit maddrhythms.com.
---