DISCOVER CUSTOMER CARE CENTER HOSTS OPEN HOUSE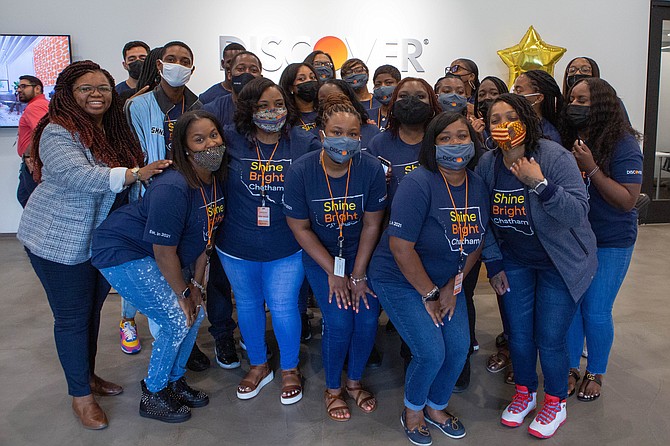 ---
Discover Customer Care Center hosts open house

BY TIA CAROL JONES
     The Discover Customer Care Center, located at 8560 S. Cottage Grove, hosted an open house on Monday, June 7. People were able to tour the 25,000 square foot temporary space, which includes the call center, conference rooms, training center, cubby spaces and a kitchen.
     Discover announced in March that it would be turning the former site of Target into a Customer Care Center and hiring employees from within a five square mile radius of the center.
     Forty employees – front-line agents, center leaders and team leads -- have been hired. The plan is to have nearly
1,000 employees in the space by 2025.
     Completion of the permanent site is set for November. Construction will start in late June or early July.
     Victoria Rudd was looking for a job after being laid off because of the pandemic. Rudd's mother owns a PR Firm and had been in contact with Juatise Gathings, Discover Customer
Care Center's manager. Rudd said she decided to check out the job opening and apply.
    "With speaking with Juatise, and for me it was just hearing the amount of passion she had about Discover and about how eloquently she was able to speak on all the things that were about to come up and how the neighborhood was about to be impacted and the benefits that Discover offered, it just became more and more enticing and I felt that I wasn't just being recruited, I was being heard," Rudd said, adding it was the
first time she felt a company actually wanted her there.
     Rudd said, after doing her own research, it was a no-brainer. She said it is an absolute joy to be a part of Discover's
team. "Walking into the workspace development office, and just being absolutely greeted with energy, positivity and seeing other people who are on the same wave, that was invigorating, it was just awesome to see. This is our first day and this is already the energy that we're seeing," she said. "So, to walk in the building, it was great to see everything come into fruition, all of the hard work we've been putting into our training so
far, and now being in the building it seems more real."
    Makaela Pratt is a trainer for Discover who came from Arizona to train employees at the center here in Chicago.
Pratt said it was a unique opportunity. "Once I heard about the opportunity, I knew then and there I wanted to be a part of it. The fact that we were opening up so much support and jobs in a community that maybe didn't have it, is absolutely amazing and it's a once-in-alifetime opportunity," she said.
     Pratt said the process has exceeded any expectations she might have had. She said the team Discover brought in for Chicago is an amazing group that will succeed. "The building is huge," she commented, adding she never knew how big a Target was "until you walk into it," she said. "I can't wait until October/ November when it is expanded even more," she added.
      Gathings said after working from home since March 2020, she said to have people in the facility is fantastic. "This morning, the energy we felt was second-to-none. People were so excited, not only to be here, but they were excited about having a smaller commute, they were excited about the energy and environment. They loved sitting down and having breakfast with one another," she said.
      The facility is very nice, Gathings
continued.
     She said she listened to the external staff talk and a common theme was a shorter commute and being more present with their families. "That really is one of the catalyst of this project is really understanding that when you give people the opportunity to not just live in their neighborhoods, but they
can work in their neighborhoods and they can be active in their kids' lives, it just enriches the entire community," she said. It was a meaningful part of the vision to see people work where
they live, Gathings added. "Our hope is that we continue to encourage other companies to invest in South and West side neighborhoods," she said.
    Rudd said she is excited to be able to finally utilize the space and to begin working with her colleagues. "Having a
company as big as Discover come into a predominantly Black neighborhood is huge. And, I think it is very important
that other companies start to take a look at what Discover is doing and how can they do the same things at their company. Because the amount of jobs that this is producing, the amount of economic stability this will bring to the neighborhood, the amount of joy people will bring into the neighborhood in general, because of what Discover is doing, is absolutely awesome to be part of," Rudd said.
---