Mayor and Police Announce Summer Safety Strategy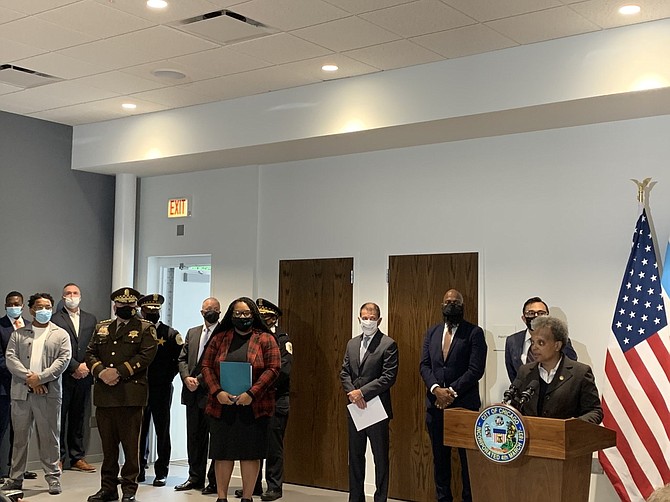 ---
 Mayor and Police Announce Summer Safety Strategy

BY TIA CAROL JONES
    Mayor Lori Lightfoot, along with Chicago Police Department Superintendent David Brown and other community stakeholders announced a new safety strategy for the summer.
      During the event at the Whitney Young Library, located at 415 E. 79th Street, in Chatham, Lightfoot said in order to make neighborhoods safe and vibrant, data must be utilized, and young people must have hope. "Warm weather means more and more people out and about, making it likely that some of our residents, especially our young people, might find themselves caught up in a difficult or challenging circumstance, making decisions that not only endanger themselves but other residents around them," Lightfoot said, adding, Chicago has a history of violence, especially during the summer. "We've seen far too many times what happens when young people and their families don't have access to opportunities within their own neighborhood," the mayor said. "Disinvestment deepens, cycles of poverty continue, hope disappears," she said. Unfortunately, under these circumstances, violence and crime may increase, the mayor continued.
      Lightfoot said since she took office in 2019, the city has worked diligently to change the history of violence in Chicago. She added, COVID-19 exacerbated violence in Chicago and in other cities across the country. "But we owe it to all of our residents, in every neighborhood, to bring peace and vibrancy back. Accomplishing this mission we know is not easy, nor can it be done alone. But we have an obligation to continue this fight, literally, for our residents' lives. And, making this summer, the summer we've all been waiting for, after the year we've just endured, we need to make this one the safest one yet, to make significant progress."
     The summer safety response is an all city response to public safety. Lightfoot said it is different than past years and is driven by data with the help of different community partners. She called upon leaders from all sectors to come together and create holistic interventions and solutions that get to the root causes of violence.
     With the strategy, the 15 most violent beats have been identified based upon data collected during summers 2018- 2020.
      Lightfoot said based upon historical data, these beats will be the most challenging, and these beats account for more than 50 percent of the violence in the city. "So, if we can make a meaningful difference in these areas, we will make a meaningful difference in the entirety of public safety across our whole cities," Lightfoot said.
     The 15 beats will be grouped into four zones, two on the South side and two on the West side.
    The first zone includes Austin, North Lawndale and West Garfield, the second zone includes West Garfield Park and West Humboldt Park. The third includes Auburn-Gresham and Greater Grand Crossing. The fourth includes South Chicago and South Shore. "In each zone, we did a deep dive to understand the conditions on the ground, the assets and opportunities. We wanted to be very clear-eyed about the challenges, so that we could forge realistic but comprehensive sets of interventions in each of these zones. And then, we asked all of our departments to assign personnel to each of the zones to coordinate services, rapid response and programming," the mayor explained.         Lightfoot said the strategy also includes connecting with community partners and faith leaders to create approaches to address violence, breaking down incidents at the block level. There will also be meetings for each zone multiple times a day. A summer operations center will manage the city's response to violence, each week, throughout the summer. "We want to build hope and opportunity in every community across the city but particularly those most plagued by violence," Lightfoot said.
     Brown said the Summer Operations Center will enable the Chicago Police Department and the Office of Emergency Management and Communications to monitor activities citywide and deploy services as incidents occur.
    Brown said the Chicago Police Department will also coordinate with other agencies, including street outreach and other violence interrupters, to ensure the proper resources are deployed. "CPD has also made working with grassroots organizations and community leaders a top priority throughout the year as together we create community around our young people," he said.
     With the Neighborhood Policing Initiative, the Chicago Police Department will work to prevent crime by working directly with residents to build trust and solve quality of life problems that can lead to crime. "As the Mayor said, this is an all hands-on deck, whole of government brought to bear on crime. If you see something, say something," Brown said. "Know that Chicago Police officers will be serving you and these communities with everything they have, risking all to protect. 
---