NECESSITY BECOMES THE MOTHER OF INVENTION
6/2/2021, noon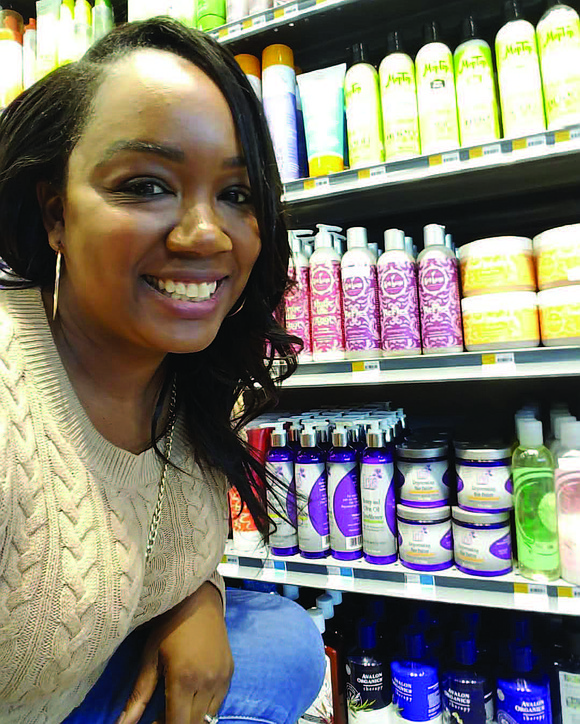 Necessity Becomes The Mother of Invention

BY TIA CAROL JONES
     Iris Nichole Patterson describes herself as a lover of entrepreneurship. She owns a behavioral health practice and also owns Iris Botanicals Natural Haircare Line.
     Patterson created Iris Botanicals, LLC, after a hair extension removal left her bald. In 2014, Patterson went to get her glue-in extensions removed. It resulted in her having serious alopecia months before her wedding. "I was just freaking out and I started playing kitchen chemist and kitchen beautician and I was able to create a formulation for myself, haphazardly and it worked. From that point on, I was playing with my hair a little bit more," she said. "I didn't know I created a solution and here I am now."
     Patterson said prior to creating Iris Botanicals, she did not have a lot of education about her hair. She has since gone to natural hair school to learn more about her hair. She said she was a product junkie and played around with a lot of products, what she liked, trying to achieve certain looks.
     "I didn't know a lot of the products I was playing around with were too alkaline for my hair, it was too drying, it broke off, it shedded, it was thin, quite thin. My hair now, when it's in its Afro stage, it is super thick but my hair thinned years ago," she said.
     Patterson said she heavily relies on social media, on Facebook, more than Instagram to market. She said she loves the e-commerce relationship she has with her customers online. She said it enables her to have a broader reach. "Being able to have people talk to their peers and tag you in the product that you're selling, that's a wonderful experience," she said. "Posting videos, tutorials, teaching people how to use the product, that goes a long way."
     Seven years later, Patterson has a full line of haircare products, but the one that started it all is the rejuvenating hair butter. She said she still uses the same formulation she started with. She said there is more coconut oil, jojoba oil and olive oil in her products than most commercial products. "All of that that's in this jar, it stimulates hair growth. It's very intentional what I created," she said, adding the rejuvenating hair serum, aloe, coconut hair cleanser and honey and olive oil conditioner, are part of the purple collection.
     The white and gold bottles are part of her moisture rich collection, or as Patterson called it, the summer collection. She said those help with defined curls. It includes a grapefruit curl custard, a mango butter deep conditioner and grapefruit leave-in conditioning detangler. She said it's really fruity smelling, which she said is her favorite now.
Patterson said alkaline products are not for Black hair because it strips the hair of the oils, which can be harsh. She said the more acidic products, for Black hair, adds moisture to the hair. "Seven years ago, I didn't understand the different products that are on the market. Once I really understand the chemistry behind, the chemical compounds, I knew I needed to create something for us," she said, adding that when she first lost her hair, there weren't many products on the market for regrowing hair, now, there are more products. "I needed to create something for me, which is really how you create a need when you're starting a business."
     Patterson said she also wanted a trusted product that families can use. She has helped women regrow their hair. She said each time she helps a woman grow their hair back, it feels like the first time.
     "I didn't wake up and say I wanted to start a business, I woke up in the morning and said, 'I want my hair back,'" she said, adding that a woman's hair is her glory and to walk around with hair loss and nothing is working, is a hit to one's self esteem. "So, to know that I helped someone find their esteem again, feel pretty again, feel whole again, that's humbling."
     Patterson said it is amazing to watch women regrow their hair over and over again. She has tutorials on how to do a wash n' go on her Facebook page, Iris Botanicals. She also advised to not use protective styles in too long, which she said is three to four weeks. She said she is a wig lover, which can help to rest your hair. She also said to use the right utensils when you do your hair.
     "Find the best style that's healthy for your hair," she said. "Stay away from the glue. I hate glue."
     For more information about Iris Botanicals, visit www.irisbotanicals.com.