JONES LEADS PEACEFUL DEMONSTRATION AGAINST HOSPITAL'S PLANS
6/2/2021, noon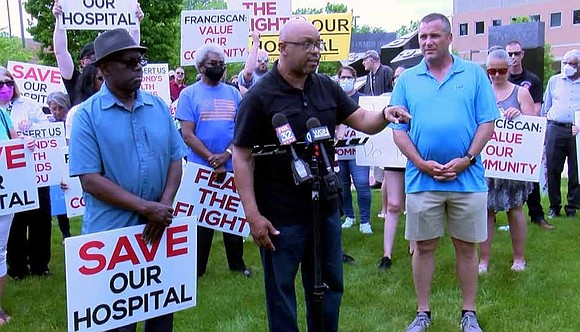 Jones leads peaceful demonstration against hospital's plans

 BY TIA CAROL JONES
     Thaddeus Jones, mayor of Calumet City, says that downsizing and the potential closing of St. Margaret Hospital would affect residents of his city.
    St. Margaret Hospital, located at 5454 Hohman Avenue, in Hammond is right at the state line of Illinois and Indiana. Jones
said the CEO of the hospital, which is run by Franciscan Alliance, did not inform him of the downsizing.
     On Friday, May 21, Jones led a peaceful demonstration against the plan to downsize the hospital from a 250-bed facility to an 8-bed acute care hospital, emergency department and primary care location, which is slated to happen in August.
     Jones said Calumet City transports nearly 3700 Calumet City residents back and forth to St. Margaret Hospital. Out of those, nearly 3,000 are African-American and 700 are Hispanic. "So, Franciscan
doing this further decimates Black and Brown people by further moving healthcare away from them and possibly result in the loss of life. It's urgent for them to reconsider this. They need to reconsider
the impact not only for Calumet City, but for the region," he said.
     According to a release from Franciscan Alliance, an investment of approximately $45 million would enable Franciscan Health to continue to provide healthcare services that are vital to the community on a smaller scale, while continuing its 24/7 emergency
services, imaging services, laboratory services, wound care, prenatal care, primary care, and impatient care for short stays.
    The hospital, which was built in 1923, went from treating more than 400 inpatients a day to 50 to 60 daily, with the majority of care done on an outpatient basis.
    "Rather than spend $80 million to $125 million to renovate and maintain unused and unnecessary space, Franciscan Alliance
is moving ahead with plans to invest $46 million on the Hammond campus to improve outpatient services and retain a small number of inpatient short-stay and observation beds," Robert Blaszkiewicz, communications and media relations specialist for Franciscan Health, wrote in an email.
    According to a release, a new Franciscan Health hospital will open in Michigan City, a hospital is being constructed in Crown Point and there is a Franciscan Health in Munster, which has been newly
renovated. Franciscan Health Catherine McAuley Clinic will continue to provide healthcare to those who are uninsured and underinsured.
     When asked about the cost of upgrading an old hospital versus constructing, opening and staffing a new hospital, Blaszkiewicz said: "Unfortunately, in order to operate the Hammond facility for the next ten years, the estimated cost was just shy of $82 million. The $82 million is just to cover the cost of upgrading and improving our facility's infrastructure. That is $82 million that we would not be able to invest in patient care."
      Jones said a letter has gone out to the leadership at the hospital. Responding to the changes, he said: "It's going to be impactful, not impactful health wise, but the area around the hospital will see a significant decrease as well and that's on both sides." He added, it's not about borders. "We're fighting the same enemy right now, which is the hospital, and trying to stop them from closing the hospital. If their mission is serving the poor and serving the needy, this is not the way to do it. They really need to reconsider."
     Blaszkiewicz said the hospital intended, following the announcement to the employees, to contact additional stakeholders,
but the story went public immediately. Rather than downsizing or closing the hospital, the hospital is engaging in a
"rightsizing" process, Blaszkiewicz said. He added that Franciscan would not be investing $46 million in a reconfigured Hammond campus in order to close it. "As part of our strategy, we are rightsizing
the Hammond campus based on our current census. We are looking to optimize safety and clinical outcomes by directing specialty care to centers of excellence throughout Northwest Indiana," he added.
     Reconfiguring the Hammond campus includes demolishing part of the 800,000 square foot campus, with 85,000 square feet remaining and 10,000 square feet of shell space available, if needed for expansion. While the hospital's footprint in Hammond will be smaller, Blaszkiewicz said, they plan to develop the vacated portion of the property and make it available for Hammond's community growth initiatives and revitalization. "It could be used for housing and retail," Blaszkiewicz stated.
    Jones said downsizing a hospital while there is still a global pandemic is not the way to go. He said it will overburden the
system and send poor people to Ingalls Memorial in Harvey and Ingalls is 10 miles away from Calumet City. He added, the nearest trauma center to Calumet City is Christ Hospital in Oak Lawn and
Christ is 20 miles away. "Ten miles in a life-threatening incident is a long way, just like Christ Hospital is, when you're talking about trauma," Jones stated.
    Jones said the downsizing would not just affect Calumet City and Hammond residents, but other South suburban communities who use the facility for health care services. "Downsizing is not investing in the community. If they wanted to invest in the community, they would have a community meeting and talk about ways we can work together to build the hospital up as opposed to breaking it down," he said.