SOCIAL SERVICES CENTER PARTNERS WITH LYFT TO PROVIDE RIDES
1/13/2021, noon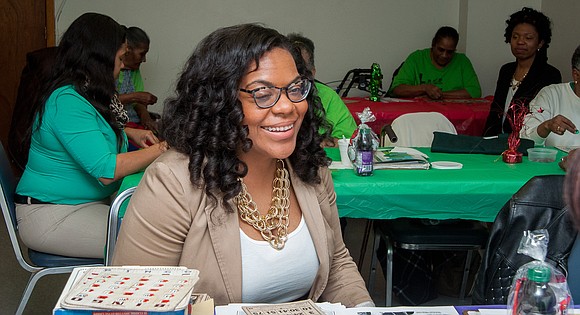 Social Services center partners with Lyft to provide rides

BY TIA CAROL JONES
     Centers for New Horizons, Inc., located at 4150 S. King Drive, has partnered with Lyft to offer transportation to those
who are seeking jobs and job training.
    Centers for New Horizons, Inc., is a 49-year-old social services organization based in the Bronzeville neighborhood.
It services the entire city and Chicagoland area, under five pillars: Early Childhood Education, Youth Development
Programs, Adult and Family Services, Workforce Development and Senior Services.
    With Center for New Horizons' Workforce Development, it has been able to place 600 individuals in jobs, each year locally, for the last nine years. Christa Hamilton, CEO and executive director of Centers for New Horizons, Inc., said the center was selected for the Lyft partnership based on its robust workforce development program.
     "They were familiar with us being in the community and providing direct service, job coaching, job placement and job training for individuals," she said.
    Hamilton added, with placing 600 individuals in jobs each year for the last nine years, Centers for New Horizons has gained a lot of employer partners during that time.
    Hamilton said a lot of the people who come to the center are operating in the negative and barriers that people have to
getting a job are vast, from childcare to transportation to attire. "Those are things our organization, we address as we prepare individuals to look for work. So, first, we have to work through those barriers before they're even eligible to go on job interviews, or to be in a position to be recruited for a job. So, transportation was one of those barriers for us for many different reasons," she said.
    Hamilton said, in some areas where people live, transportation is scarce. A bus or train might not run as quickly as it does in other areas. She added, community violence also plays a huge factor in the transportation. She said Centers
for New Horizons, Inc., deals with a lot of high-risk individuals. "They're not safe standing on the bus stop or on the train stop, just due to some of the violence that is happening, or occurred, in their neighborhood," she said. "The Lyft partnership was amazing because now that reduces one of the barriers for individuals that are in those high-risk categories."
    Hamilton said the partnership is also good for single parents who need transportation to get back and forth to daycare. She said it has helped families achieve their daily responsibilities
on the course of getting to work. "It could take an hour and a half on public transportation to get somewhere that only take[s] about 30 minutes in a car," she said.
    Hamilton said that while some job interviews take place virtually, due to COVID-19, job seekers still use transportation to get to the center to use the internet services for those interviews. Oftentimes, those people don't have the technology or the space to do the virtual interviews at home. Also, clients
at the center are using the partnership to attend job readiness and coaching at the center.
     Because Centers for New Horizons, Inc. was a direct service center, with 11 locations across the city, it had to pivot
and act quickly to ramp us technology to ensure all the employees had internet and computer access. It is currently offering a hybrid of virtual and in-person services.
    For more information about Centers For New Horizons, visit cnh.org.