HEALTH JOURNEY CAUSES WOMAN TO INSPIRE OTHERS
1/13/2021, noon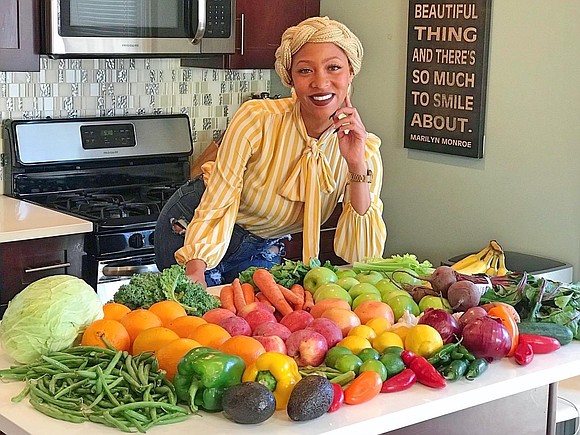 Health journey causes woman to inspire others

BY TIA CAROL JONES
     AnDrea Lyn Dixon's health journey inspired her to help others to choose healthier options. Now, she has created
the Eat Your Veggies Box, full of quality produce that people can have delivered to their homes.
    Dixon said 10 or more years ago, she really got into cooking because she had some digestive issues. Through her research on vegetables and from talking to her friends about being vegan, vegetarian and raw food, she learned the importance of eating vegetables. She made it clear, while she is not a vegan or a vegetarian, she eats her veggies!
     Dixon said she noticed a change in herself once she started cooking and eating more vegetables. Her skin cleared
up, she had a lot of energy and she started feeling better.
     Dixon said throughout the years, she ordered different vegetable subscription boxes. She said she was afraid at the
beginning of the pandemic to go to the grocery store, but still wanted to maintain her healthy lifestyle and she wanted
others to get more healthy, so she started the Eat Your Veggies Box. She added that she wanted to push her "veggies in a simple and convenient way" which allowed people to eat healthy without having to leave home.
     Dixon said she also saw a lot of people ordering take out and not cooking as much. She admits she also needed to get
back on track herself with eating more vegetables.
     The Eat Your Veggies Box costs $44.99 for a one-time purchase and includes free delivery in the Chicagoland area. The subscription box includes weekly produce delivery, or twice a month.
     Dixon said she transitions people toward incorporating more vegetables in their diet using marketing tools on social media, to make vegetables look good. "Veggies are good. These ain't ya grandmama's veggie," she remarked.
   "Vegetables are really good and really easy to cook."
    In addition to the Eat Your Veggies Box, Dixon has created a cookbook with recipes for the produce delivered in the
box. The cookbook will be launched in late January or in early February. "I just want to educate folks on why veggies are
important," she said.
    Dixon said she rarely eats salads or raw vegetables, she prefers her vegetables cooked. She added, she is excited to
share her cookbook with other people.
     "Health is wealth. If you're healthy, anything is possible. You can just live your best life and that's all I want people
to do," she said.