Retired NFL player Terrell Davis Talks About Health, Wellness & Defy, A Sports Performance Company Where He Is Co-Founder
2/26/2021, 11:56 a.m.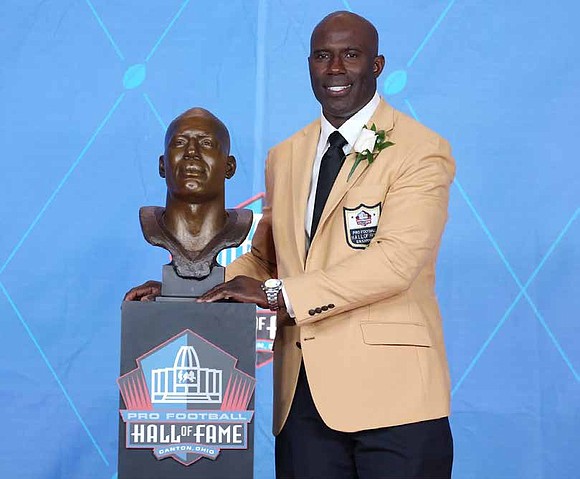 RETIRED NFL PLAYER TERRELL DAVIS TALKS ABOUT HEALTH & WELLNESS
Terrell Is The Co-Founder Of DEFY, A Sports Performance Company

BY TIA CAROL JONES
     Terrell Davis is a retired NFL player and Pro Football Hall of Famer and Super Bowl champion who had a short, but successful career. When Davis retired from the NFL, he became an entrepreneur.
     "Business gives you the same energy that you feel when you're playing because there are a lot of things that are uncertain, the excitement of building something from scratch
has always been appealing to me," he said.
     Davis, co-founder, along with CEO Meghan Bushell, launched DEFY, a CBD infused Sports Drink. Davis said after football, he had aches and pains and started doing research on the benefits of CBD. He said after using it, he saw an improvement in his body and mobility, as well as less inflammation and pain. "This really changed my life and it put me in a better space, I was in a better space physically," he said.
     That was in 2017, by 2019, DEFY was launched and it is constantly growing. It started with the performance drinks,
which come in three flavors, and has expanded to CBD oil and CBD balm, as well as Alkaline water, which is the company's
non-CBD beverage.
     "It's exciting to see it from idea to where it is now. I think the coolest thing is too, so far, has been the response from people that we get who have tried it," he said.
     Some of those responses range from a decrease in migraine headaches after drinking the drink or how the balm helps people with their mobility and inflammation.
     "To me, that's where the gold is, to have something that people are benefiting from and it is actually improving their quality of life," he said.
     Davis said it is not a CBD company, it is a performance company that sells CBD products. He said his goal is to be a health and wellness company that helps people improve their quality of life through physical activity.
     Davis said as a black entrepreneur, there is a sense of pride. He said his father always told him as a Black man living in America, that he would have to be twice, if not three times, as good as the next person.
     "That always weighed with me. So, if I'm doing something, whether it's business, whether I'm a civilian, I try to put my best foot forward so that when the next Black person comes in, they're treated in a way that is respectful," he said. "Hopefully, we're being an example for other Black businesses who will see us and say, 'they're doing it the right way.'"
     Davis added DEFY is giving back to Black communities through its Hydrating Humanity Water.
    "We're a Black-owned, woman-owned, veteran-owned company, so those are the three pillars that we're going to be focusing on as far as giving back to," he said. "Really, my focus is Black health with those charities."
     DEFY also has donated 500,000 bottles of alkaline water to food banks across the country, including the Greater Chicago
Food Depository.
     Davis said there is a small percentage of players, coaches and administrators who are Pro Football Hall of Famers.
     "To, not only play the game and excel, and do it at a level so high that people deem you worthy that you are enshrined,
where you have a bust in Canton for 40,000 years and to be in there with the likes of Walter Payton, Eric Dickerson, Jim Brown, you name it. This is a crazy dream, this really is a dream," he said. "And, with the Super Bowl, my desire and
passion to win the Super Bowl was always there. I was blessed to have players and coaches that had the same passion and desire to be able to achieve that."
     Davis said CBD would have prolonged his career. He said football is always evolving when it comes to pain management.
He said recovery is everything in sports.
     "If 20 years ago, I had CBD and it's working on me the way it's working on me now, my recovery would be faster, I could train harder, I could perform at a higher level," he said. "I know if I had this and the way it's helping me recover faster, I feel like I would've played longer."
     For more information, visit www. drinkdefy.com.