HELLO BABY HELPS CHILDREN LEARN AND PLAY
2/17/2021, noon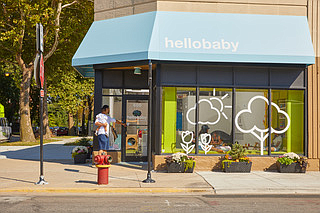 Hello Baby helps children learn and play

BY TIA CAROL JONES
     Hello Baby, located at 600 E. 61st St., was founded by Debbie Frisch, who wanted to provide resources to children and to caregivers.
     Frisch said she saw how much harder it is, as a single mother, when there are not adequate resources when it comes to social services.
     She said when she had a chance to do more, she did and the mission of Hello Baby, which opened in 2017, is to inspire, empower and support families raising children in underserved communities. They do that through their free of charge drop-in play space. "It's our way of trying to level the playing field in Chicago," Frisch said.
     Frisch said the goal was to give children the opportunity to play. She said birth to 3 years old is the time when children experience the most brain growth and added, just like there are food deserts, there are play deserts too. Frisch said children who don't play will likely start behind, which may lead to them to lag behind in the educational system as well.
      "The first goal was to provide an environment where children could learn and  play, in a joyful way. The second was to connect caregivers who might otherwise find themselves socially isolated," she said.
     Frisch said as Hello Baby became involved in the community, she was made aware there were things public assistance didn't cover such as diapers, wipes, cleaning supplies and paper products. She said Hello Baby started to provide those products.
     Frisch said Hello Baby has made a positive impact on the community by beautifying the corner where it is located. She said it is a disinvested business corridor.
     "We've activated and people from all over the South side are coming and we've created this really beautiful community. My goal is just to provide a service and step back and I just watch caregivers supporting each other and helping each other out with their kids and we've become a beacon of light and hope," she said.
      Frisch said Hello Baby received an award, based on Google guest feedback, that named it the best play space and best community center in the Chicagoland area. She said it is amazing for a "little non-profit."
      Frisch said the goal was to launch  Hello Baby and let the community absorb and direct it, which they have done. She said in listening to guest feedback, Hello Baby partnered with Bubbles Academy to do a music program. Stages Performing Arts has returned to Hello Baby, it takes place at 10:30 a.m. on Mondays.
      Frisch said during COVID-19, Hello Baby had to close the location in the summer for play but started to host robust giveaways, with products that were needed like cleaning supplies and paper products. It also bagged activities, books, toys and crafts for children to take home. It reopened on Monday, Feb. 1 and it is limited to 8 people per shift. Guests have to sign up for registration.        Frisch acknowledged that Hello Baby could do better when it comes to providing diversity, inclusion and equity within its organization, adding they try to hire from the neighborhood and aim for inclusion on their boards.
      "I think that's an area where we have some more wood to chop," she said. Frisch said it's her goal to have a Hello Baby in every community that needs it. They are investigating in a second location now.
     For more information about Hello Baby, visit hellobabychgo.org.