ORGANIZATION WANTS GREATER RECOGNITION FOR JEAN BAPTISTE POINT DU SABLE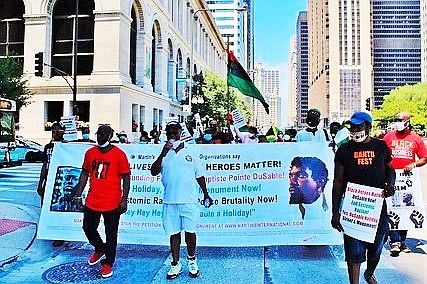 ---
Organization wants greater recognition for Jean Baptiste Point du Sable

     Black Heroes Matter is continuing their fight to gain more recognition for Jean Baptiste Point du Sable, the Haitian settler who is known to many as the founder of Chicago.
     Point du Sable, recognized as one of the first permanent non-Indigenous settlers, had an outpost at what is now 401 N. Michigan Avenue, near the mouth of the Chicago River in 1779.
     He amassed a great deal of wealth during his time in Chicago with his fur trading, smokehouses, bakeries, hen houses, grain industry, all on 800 acres.
     A linguist, who spoke French and Spanish as well as several dialects, Point du Sable married a Potawatomi woman named Catherine
and cultivated a relationship with Indigenous people.  He was also known as a peacemaker.
     Ephraim Martin, owner of Martins International Foundation, has been instrumental in Black Heroes Matter. There is a coalition of 80 organizations and businesses that are part of Black Heroes Matter where there's a move to make sure Point du Sable is recognized with a 25-foot monument in Grant Park.
     The organization also wants to see a city holiday named after the city's founder - as well as renaming outer Lake Shore Drive for him - at an estimated budget of $1.2 million.
     Martin said Black Heroes Matter talked to Mayor Lori Lightfoot in December and she expressed an interest in working with the group.
He said Howard Brookins, alderman of the 21st Ward, has agreed to call the vote for outer Lake Shore Drive, 67th Street south to Hollywood,
to be renamed DuSable Drive. He added the group is calling for Brookins to call the matter up for a vote this month during Black History Month.
     Martin continued: "There could be no better time if we really want to show appreciation for the Black man who discovered this great city, there could be no better time to give him this reward in Black History Month," he said. "There should be no reason after 240 years there should be any further delay in renaming Lake Shore Drive, DuSable Drive, and giving this founding father his respect."
     Martin encouraged people to call Brookins to call the vote for the renaming of the street. He added, he wants all 50 alderpeople to vote yes. Martin said the group wants the holiday to take place at the end of June because it is said that Point du Sable was born around June 26. He said the group has given Mayor Lightfoot and the Department of Cultural Affairs and Special Events a mock-up of what the monument would look like.
     In August, the city of Chicago announced a racial healing and reckoning project to assess memorials, monuments and art in the city. It came after the racial reckoning in the wake of George Floyd's death. Martin said the group does not want the Point du Sable monument discussion to be part of that, adding, they want his monument to be a part of a separate discussion.
     "Mr. Sheridan, of Sheridan Road, Mr. LaSalle, and all these Ashland and Halsted and Kedzie, and the list goes on. And, we're saying, if they can have a street, there's no reason the founding father, the man who started the city, a Black man, cannot be given his full respect. And, we're
going to fight to make sure that is done," he said.
     Martin said the fight has been going on for 100 years to get Point du Sable more recognition in the city of Chicago. He said the time is overdue and the time is up to wait for it to happen. He added the goal is to have the monument finished by the end of 2021.
     "Its time for us to stand up. The people before us have tried, it didn't work. Generation after generation have tried. And, it's now time for us to say let's not pass it on to another generation. Let's do something
now," he said.
     "When you think of systemic racism and what our people have gone through, we have to stand up and say no more. The time is up. We
have to be respected equally as any other person. And, that's what we're fighting for."
     At the beginning of Black History Month, Mayor Lightfoot issued a proclamation and named Point du Sable, along with other notable Black people, for their accomplishments. In a statement, Mayor Lightfoot
said, "Jean Baptiste Point du Sable has played a critical role in Chicago's history and it is important that we honor and recognize his contributions to our city. I look forward to continuing the conversation with the various stakeholders to find a way to acknowledge his notable legacy."
     For more information, visit blackheroesmatter.org. There also is a petition on change.org, find it under DuSableChicago.
---