ORGANIZATION FOUNDER LEVERAGES RELATIONSHIPS TO UPLIFT COMMUNITY
2/3/2021, noon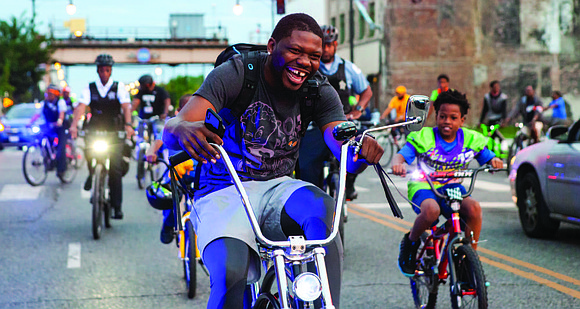 Organization founder leverages relationships
to uplift community

BY TIA CAROL JONES

     Pha'Tal Perkins, founder of Think Outside Da Block, is a resident of Englewood. Perkins said growing up in an underserved community, he went towards the streets. But, one day he woke up and didn't see forever in that life.
     Perkins wanted to bring a positive light to the community and started Think Outside Da Block. It started with a Thanksgiving Extravaganza, that included turkey giveaway and free haircuts, and has grown into bike rides through the community of Englewood and an organization that seeks to empower young people and encourage entrepreneurship.
     "I created this with the idea of me being the person I wish I had growing up. Just thinking about a lot of things that wasn't discussed that I didn't know about," he said. "I just want to make sure the generations following, and even some of my peers, know that this kind of information is available, and these are some of the conversations we should be having, as it relates to credit, financial literacy, owning the land."
     Perkins said the people have not let him stop since he started in 2012. He is part of the Mayor's Bike Riding Initiative, as well as the organizer of Roll N Peace. He said he gets pulled in a lot of different directions to do a lot of different things.
"Ultimately, the mission is to provide a better quality of life for disadvantaged youth," he said.
     And, while my main focus of Think Outside Da Block is the youth, Perkins acknowledges that there are parents of the youth also need assistance and resources, in order to build the entire community.
     Perkins said founding the organization wasn't something he wanted to do, or anything he wanted to do since he was young. He said it was a light that came to him. He was doing music, and he stopped doing music to start his organization.
     "It was this passion for helping the community. Every event, every conversation, every meeting, just seeing there was a different need, or another need, or a void that needed to be filled. And, for some reason, I got this thing that told me I was the person to fill it, so I just went with it," he said.
     The Thanksgiving Extravaganza, which was the signature event of Think Outside Da Block, has grown to include hair services for girls, nail techs, in addition to the free haircuts for boys. There also are games and activities, along with hats, gloves and scarves being given away. It happens at Ogden Park each year on the Monday before Thanksgiving.
     "Some kids are going home to things people wouldn't even imagine. Some of our youth are in survival mode every day," he said.
     Perkins said he organized the Thanksgiving Extravaganza because he wanted to create an experience for the children in the community. But, he said it wasn't enough, he wanted to do more.
     "I started to think about how could I change he mentality of our youth, as well as the parents. It inspired me to create events where I could attract both the parent and the child, and we have these resources available to help both entities," he said.
     In 2019, Think Outside Da Block piloted a trauma awareness series titled, "Get Ya Mind Right." It uses artistic expression to help the community identify trauma that is considered normal. It was a partnership between St. Bernard Hospital, Heartland Alliance, Oak Street Health, as well as some private practice clinicians and therapists. He also had comedians host the events.
     Roll N Peace is another signature event of Think Outside Da Block. Twice a year, people take a nighttime bike ride through Englewood. Perkins said he created it to deter violence but didn't know all the other opportunities that would come from it. In 2020, in the height of the pandemic, there were more than 1,000 people that joined the bike ride.
     "It was a challenge for me because I wanted to show people that my community isn't what you think it is, or what everybody says it is," he said. "It was my definite goal and duty to show there are so many great things about the greater Englewood community that people just don't know."
     For more information on Think Outside Da Block, visit www.thinkoutsidedablock.org.