A "DREAMER" WHO REFUSES TO QUIT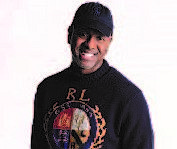 ---
 A "Dreamer" Who Refuses to quit

BY TIA CAROL JONES
Greg "Olskool Ice Gre" Lewis describes himself as a dreamer and he knows there are more dreamers like himself out there.

"I Refuse to Quit: Autobiography of a Dreamer" is his life in words on paper and his journey in the industry. Greg "Olskool Ice Gre" used his ups and downs, going after his dreams as a way to motivate and inspire other dreamers. Lewis describes
dreamers as visionaries, those who can take something that is in their head and put the work behind it to manifest it into the world
and make it real.

"The only reason why we have advances in technology and medicine is because of a dreamer," he said.

Lewis wants to appeal to the dreamers who might be on the verge of giving up. He wants them to read his story and be encouraged.
Lewis wants the dreamers to know about the movement of MIE – motivation, inspiration and education.

Lewis has been in the music and entertainment industry for years. He has been in rooms with actors and actresses, performers and other notable people. He considers himself to be the regular guy in
those rooms.

Lewis also is one half of the group Abstract Mindstate, with EP Da Hellcat. They met while attending Jackson State University in 1990. Their sound is described as Adult Contemporary Hip Hop, a more traditional hip hop sound that concentrates more on the lyrics, cadences, creativity and conversation, as well as new and creative beats.

"Hip hop is the culture; rap is the music that's connected to the culture. When you call yourself hip hop as a rapper, you're saying you're leaning more toward the aesthetics that the hip hop culture embraces. it's respect, it's education, it's B-boying, it's emceeing, it's deejaying. All of these things, you actually care about when you call yourself hip hop, those things matter and that changes the sound of your rap," he said.

Abstract Mindstate hadn't put out music together in 16 years and hadn't performed in almost 20 years. Lewis has been working with Kanye West for the last 22 years. While working on "Ye" during
the Wyoming Sessions, Lewis listened to "Sacrifice" from "Chicago's Hardest Working Vol. 2."

It made Lewis want to write. He sent the music to West. West called him and said he wants Abstract Mindstate, along with Teyana Taylor, to represent YZY SND. After some convincing, Lewis called EP to convince her to be a part of the YZY SND
Imprint. This year, Abstract Mindstate released "Dreams Still Inspire."

"We Paid Let Us In! The Legend of Abstract Mindstate" is a documentary, produced and directed by Trizonna McClendon. It shows the perseverance, hustle and is a culmination of everything
that is Abstract Mindstate. The title of the documentary is also the title of one of the group's album.

On Thursday, Dec. 9, Abstract Mindstate performed at Promontory, along with Detroit's Slum Village. To be at home made it great. It was the first time in Chicago that "Dreams Still Inspire" was performed.

"A vibe doesn't have an age. There's no age to feel a vibe," Lewis said.

Lewis talked about Vic Mensa, Noname, Saba and Chance the Rapper and their ability to use their platforms to do something
positive for the culture and put out music that falls into the Adult Contemporary Hip Hop genre.

For "I Refuse to Quit," visit www.irefusetoquit. com. You can go to the Honest Management YouTube page to watch the "We Paid Let Us In! The Legend of Abstract Mindstate" documentary.
---