The Barbara Bates Breast Imaging Center opened at Mt. Sinai Hospital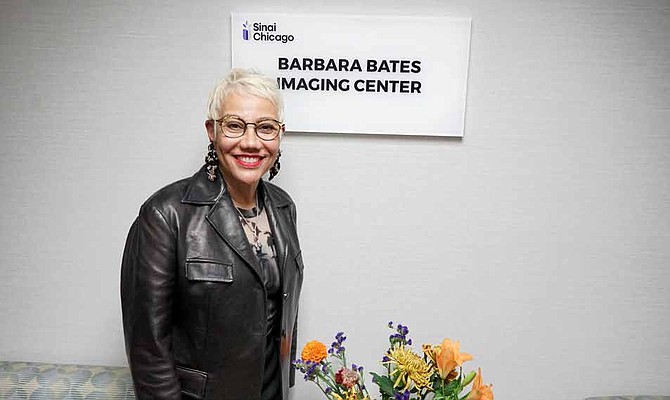 ---
The Barbara Bates Breast Imaging Center opened at Mt. Sinai Hospital

By Tia Carol Jones

Barbara Bates is a fashion designer and a Breast Cancer Survivor. Mt. Sinai Hospital celebrated in November by naming its Breast Cancer Imaging Center in her honor.

Bates didn't have proper information about the disease. She believes if she did, that her breast cancer would have been detected sooner.

Twelve years later, education around Breast Cancer is more available and accessible.  Bates still wanted her community to know how prevalent Breast Cancer is. After she finished her treatment, she started to raise funds around Breast Cancer and got connected to the Mt. Sinai Hospital, located at 1500 S. Fairfield Ave.

Bates donated to 'Helping Her Live', an organization within Mt. Sinai aimed at encouraging women to get breast cancer screenings. When the president of the Mt. Sinai Hospital received Bates' donation, he asked her to fund raise for them. He gave her an amount and a timeline, with a caveat if she completed the goal; an imaging center would be named after her. She declined it at first.

Mt. Sinai Hospital was persistent. Bates was connected to Debra Wesley at Mt. Sinai. She started attending meetings and doing her research. She became a huge fan and wanted to let people know it was a gem in the West side community where it is located. Bates started to do fun fundraisers.

Bates was doing walks and hosting fashion shows to raise money. The money she raised went toward the renovation of the center and the purchase of a 3D Mammography Machine. Right now, Mt. Sinai has 2D imaging machine. The 3D Machine will enable them to see through the breast more clearly, especially for patients with dense breasts. It will allow for smaller cancers to be found, which can lead to smaller stages for diagnosis and improved outcomes. The prognosis would also be better with the 3D Mammography Machine.

Mt. Sinai has a comprehensive Breast Center, with the imaging center, mammography, radiology and MRI, as well as a dedicated breast surgeon, medical oncology, radiation oncology, pathology, all the pieces of the puzzle to have breast healthcare for the hospital's patients.

"The idea for the center was something somebody else came up with and I rallied behind it, but I didn't really know the significance of it until I walked in that room with some of the young women who helped me fundraise," Bates said. "Now, I'm in it for life. You can't have your name put on something and walk away from it. There's more work that needs to be done with it."

There isn't an earthly word that Bates can attach to the feeling of walking into the Barbara Bates Breast Imaging Center for the first time. There's no word that is good enough for it.

"I thank God that I'm still around to see the room. It just made me think, I want to do more. The room is wonderful, I want to make the room epic. What else can I do? I want to keep going," Bates said.
---