Registration Open NOW for BBB and SCORE's Build a Better Business Conference
One-day conference focused on improving small and medium businesses scheduled for Oct. 7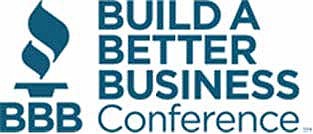 ---
Registration Open NOW for BBB and SCORE's Build a Better Business Conference
One-day conference focused on improving small
and medium businesses scheduled for Oct. 7

     Northern Indiana – BBB Serving Northern Indiana and SCORE Northeast Indiana announce that registration is now open for their inaugural Build a Better Business Conference, scheduled for Thursday,
Oct. 7, at the Parkview Mirro Center in Fort Wayne.
     "This conference seeks to give small and medium business leaders
the opportunity to sharpen their skills and develop a successful strategy to grow their businesses in this ever-changing marketplace," said Marjorie Stephens, President and CEO of BBB Serving Northern Indiana. "The day will be jampacked with learning, networking and growth opportunities."
     Registration for the one-day conference includes a keynote speaker,
panel discussions and a total of 16 break-out sessions to educate attendees with valuable skills and knowledge they need to advance
their businesses. Sessions range from basic courses in QuickBooks
to more in-depth workshops like planning your company's succession
planning. Find the full list of workshops here (titles subject to change).
     Registration fees for BBB Accredited Businesses are just $99 per person through Wednesday, Sept. 15. Cost for non-Accredited Businesses is $110 through Sept. 15. Prices increase $15 for Accredited
and non-Accredited businesses after Sept. 15. Additional discounts are
available for groups of 10 or more.
     "As the COVID recovery continues in Northeast Indiana our economy looks good and improved business opportunities abound, said Steve Rinehart, Chair for SCORE Northeast Indiana. "The Build a Better Business Conference will provide any business with helpful information and tips for improvement, and I urge all small business owners and entrepreneurs to consider attending this timely conference, so they are ready to improve their growth and profit in the robust economy ahead."
     The Build a Better Business Conference will also serve as the
official celebration of BBB's 16th Annual Torch Awards. During the conference luncheon, the 2021 honorees will be featured in front of their peers and the northern Indiana business community.
     "BBB was founded by businesses, for businesses, and more than 100
years later, we still pride ourselves on being a resource to our business
community," said Stephens. "We invite all business leaders, accredited
or not, to take advantage of the conference."
     Conference sponsors include presenting sponsor SCORE Northeast
Indiana, as well as Paul Davis of Northeast Indiana, PNC Bank and St. Joseph Funeral Home. For more information or to register as an official 2021 sponsor, visit the Sponsor Opportunities page.


---