ENTREPRENEURS TALK ABOUT ACCESS TO RECREATIONAL CANNABIS LICENSES
4/28/2021, noon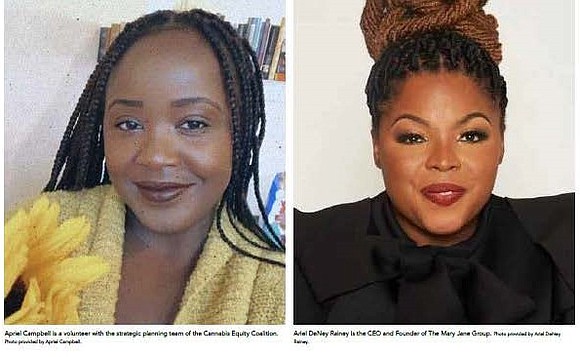 Entrepreneurs talk about access to recreational cannabis licenses

BY TIA CAROL JONES
     On January 1, 2020, Illinois legalized recreational marijuana use. Since then, sales have netted more than $600 million. Since January
2021, marijuana sales have netted more than $100 million.
     Apriel Campbell is the founder of Ivy Care, LLC, a self-care beauty and wellness brand, and Ariel DeNey Rainey is CEO and founder of The Mary Jane Group.
    Campbell and Rainey are both investment partners in Ethos, a medical cannabis dispensary, which has a location on the East Coast but is trying to move into Illinois and recreational cannabis. Rainey said Ethos has a social equity program that is dedicated to advocating for more Black people to get cannabis licenses.
     "They're making sure that we have opportunities to learn. They're galvanizing us together to make sure people understand what true
equity looks like and not only that, the mentorship and push is unmatched to any other equity compared to a lot of other social equity
partners I've met in this state," she said.
     Rainey said when marijuana became legal, she understood years ago the marijuana industry was going to be something people outside
the legacy market would make money in, while Black and brown people were arrested and jailed for their possession, use and sale of the same product. She said she knew those people in the legacy market would be shut out of the monetary gain connected to legal cannabis.
    Campbell describes herself as an advocate and is a volunteer with the strategic planning team of the Cannabis Equity Coalition.  "What I'm hoping for through my opportunity, that I've been able to create through my partnership, is to provide this type of platform that I could be able to help other people who were in the situation I was in, and givethem an opportunity to create generational wealth for their families, in perpetuity, in regards to being successful in this industry," she said.
     Campbell said she has been very plugged into the policy surrounding recreational marijuana. She said it is really important to
follow the law and be really in tune with the legislators because that is a way to impact the community.
     Rainey added, she started Mary Jane Group in 2014, out of dedication, both from the organization and from herself, to provide Hustle Mommies and their families with an opportunity to get into the industry. She added, the Mary Jane Group is for her people.
     Rainey said she met with the CEO of Ethos, Teddy Scott and that Scott has become a mentor to both herself and to Campbell. She added, outside of Chicago, there is a Black Cannabis Network where everyone helps each other out.
    With the legalization of recreational cannabis, Rainey said the part she was excited about was the R3 Grant funding that was established.
The Restore, Reinvest, Renew Grant was established to fund programs in Illinois communities that were harmed because of violence, excessive incarceration and economic disinvestment. It funds programs in civil legal aid, economic development, reentry, violence prevention and youth development. She said it gave Hustle Mommies, an organization Rainey is the CEO and founder of, an opportunity to
apply for funding for things it is doing in the community.
     Campbell said there are still a few loopholes in the Cannabis Regulation and Tax Act. One says 51 percent of the ownership and more than 10 full-time employees can be from disproportionately impacted areas and that company can be designated as social equity
applicants. "It's that equity that will be behind that brand that you build that's going to be able to really catalyze that generational wealth," she
said, adding that it was a great start. "Immediately I'm like what organizations can I get plugged into to continue advocating for better
legislation."
     According to the Illinois Department of Commerce and Economic Opportunity, social equity applicant criteria were established to
ensure "that communities historically impacted by the criminalization of cannabis have an opportunity to participate in the legal cannabis
industry." Social equity applicants can receive technical assistance and support, receive a certain number of points on their dispensary
license application, pay reduced license and application fees, and have access to low-interest loans from DCEO to start and operate a
cannabis-related business.
     Campbell and Rainey talked about barriers in Illinois. One was the taxes on recreational legalized cannabis. The other was the expungement of marijuana records. Campbell said there is still more to be done.
     When it comes to the money netted in the state of Illinois from the sale of legalized cannabis since January 2020, both Campbell and Rainey agreed, Black and brown cannabis business owners are not getting a fair share of the money. Campbell asked, "where are they?"
     "The major corporations that are led by cisgender white men are cashing out, and our people are not getting a part of this," Rainey
said. She added, Black people need to be at the forefront of the process during the beginning phase of recreational cannabis in Illinois in order to benefit financially, and to be a part of the decision making process.
     Campbell said the silver lining in the law is that 25 percent of the revenue is supposed to go to the R3 grant. "They haven't even awarded recreational licenses yet. Only medical license holders who opted for recreational status are the ones making money. It's a void right now. That's why social equity applicants are so upset,"
she said.