STUDENTATHLETES TALK ABOUT PANDEMIC'S IMPACT ON SPORTS
4/21/2021, noon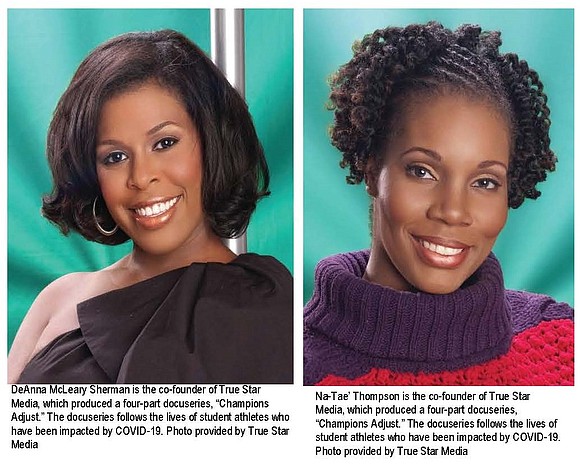 Student- Athletes talk about pandemic's impact on sports

BY TIA CAROL JONES
     When COVID-19 caused school buildings to close for in-person learning, student-athletes' seasons were put in limbo. A new docuseries, "Champions Adjust," from True Star Media, gives voice to students on how COVID-19 has affected their lives.
     True Star Media is the brainchild of DeAnna McLeary Sherman and Na-Tae' Thompson, who founded the media company and digital agency 16 years ago, to provide hands-on training for youth in digital content creation, development, and marketing.
     The idea for the four-part docuseries came because the organization received the Field Foundation's Media & Storytelling
grant. The goal of the grant is to create equity and inclusion in media in Chicago by supporting narratives for and about
communities of color in the city. McLeary said True Star Media wanted to use the grant to amplify high school sports.
     "Chicago is a big sports town and high school sports are really big in Chicago," she said, adding that it is something unique to the city. "We really wanted to tell the untold story. Not just of the
top athletes, but athletes in general in Chicago, to really shed light on young people that are investing their time on ways that are really positive and who are disciplined."
    When the pandemic hit and the sports got shut down, True Star Media was still committed to telling these stories, so they
did a moment in time piece. "We really dug our heels in and said let's not run away from it. Because sports are paused or cancelled. Let's do a piece about how COVID is really impacting high school athletes," McLeary Sherman said.
     Thompson said they knew a docuseries about sports would be well-received. In the past, True Star Media did a sports issue
in its print publication and it was one of the most popular. She said during the filming of the docuseries, they learned the importance of sports seasons for juniors and seniors. "The high school athlete, a junior or senior, this is a very pivotal moment for them, if they plan to go on to play at the collegiate level. And, with everything shutting down, this is going to minimize their opportunity to be seen and recruited by college coaches," she said.
     Thompson said those students had to pivot, with some creating videos of themselves working out and sending out to schools. McLeary Sherman said for other students, sports was a way for them to express themselves. She said those students lost that. She said many of those students struggled, but young people are resilient.
     Thompson said this docuseries was important because a lot of what people saw focused on how COVID-19 impacted senior citizens and older people. "We felt it was our job to tell the story from a youth perspective. Because there are millions of young people who are being affected by this as well. They're being affected because their whole life has to stop in an instant,"
she said. "Now, they're no longer in school with their friends, these are pivotal times for them in their lives because they're learning how to socialize, everything is shaping them for adulthood."
     Jaden Stewart, a junior at Perspectives Charter School, is a student journalist at True Star Media. He will also be the host
of a conversation, which will take place at 3 p.m. on Sunday, May 2, on Instagram.
      Stewart said during his time at True Star Media, he learned that creating content is not easy. He said he's also learned that thinking outside the box and being creative start with a lot of research. He added, he felt honored to be the one to
interview the student-athletes.
     Tim Taiwo is one of the student-athletes whose story is featured in the docuseries. Taiwo is a junior at Gwendolyn
Brooks College Preparatory High School and plays basketball.
     Taiwo said he found it hard to stay motivated because the gyms and facilities were closed because of the pandemic.
     He played outside. He said games were recorded without fans in the stands. He said he was happy to be with his team and to be able to play. "I wanted to participate in the docuseries because I felt like I could speak my mind and speak how I truly felt about the whole situation and how it was going for COVID and high school athletes," he said. "They will see somebody from CPS speaking out about how it felt, another perspective."
     The first three episodes of "Champions Adjust are available on the True Chicago YouTube channel. The fourth episode will be available on Friday, April 23.
     For more information on True Star Media, visit https://truestar.life.