SOUTHLAND COLLEGE PREP SENIOR TALKS ABOUT RECENT SUCCESSES, PLANS FOR THE FUTURE
4/14/2021, noon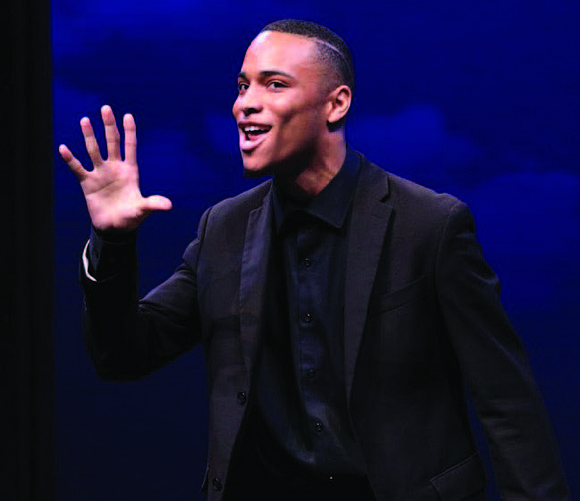 Southland College Prep Senior talks about recent successes, plans for the future

BY TIA CAROL JONES
     Bri'Yon Watts, a senior at Southland College Prep Charter High School, has been racking up awards and accolades in the Speech and Drama space.
     During the 2020-21 speech season, Watts earned a total of 23 first place medals in Dramatic Duet Interpretation and Poetry Reading, including being named champion of two regional events and the state final.
     Watts recently captured the Illinois state championship in Dramatic Interpretation. He is also set to compete in the National August Wilson Monologue Competition in May, after placing second in the Chicago competition.
     Watts said he wanted to compete in the August Wilson Monologue Competition after doing research on the playwright who is known for "Fences" and "Ma Rainey's Black Bottom."
Through that research, he found out who Wilson was as a person and what his goals were.
     "I was very appreciative because he introduced me to talented and inspirational actors and actresses which I still love today, Viola Davis and Denzel Washington, two of my personal favorites. And, he really told the stories of people who look like me, years beyond, not even just the history but also the culture of our people. And, knowing that, I knew I had to take on doing this competition," he said, and added this was the third time he competed in the August Wilson Monologue Competition.
     Watts said he is very well acquainted with Wilson's text. He said while competing doesn't get easier over time, he does get more excited each time he competes.
     "I still get those little nerves here and there, from time to time thinking about it, getting ready to perform, which is natural. But I always think about the fact that I'm here to tell a story and I'm here to convey a message to people. And, there's someone out there who needs to hear this specific message in this moment," he said.
     Watts added, knowing that someone needs to hear the message is a way he holds himself accountable to make sure
the message isn't incumbered by his nerves. This time, Watts performed a monologue of the character Youngblood, Darnell, from Wilson's "Jitney." He said he picked the piece because he saw a multitude of things from Youngblood. One was
his will to try to do better.
     "I saw him as a real person in a real situation. Just seeing him and his decisions and his thought process, all through just this one little monologue, it felt like I needed to choose this piece for this year because he really showcased lots of different things that we as people just think about or just do. It was really real for me," he said.
     Because of the pandemic, Watts has performed in these competitions virtually through Zoom, which means there is not an audience watching his performances. He said he loves having an audience and knowing there are people that he is giving the message to.
     "Although, you don't break the fourth wall, you still can feel it in the room. You can still feel your audience in the room, how they're taking it all in. And, honestly, at times it will boost your performance and keep you going, and it allows you to feel heard, it allows you to feel seen, it allows you to feel understood, and that's the great thing about having an audience," he said.
     Watts said despite not having an audience, knowing that people would see the performance made him want to do a really good job. He said he wanted to make sure the audience still got the same feeling and the 110 percent.
     Watts will attend Duke University in Fall 2021. He will co-major in theater and psychology and said he saw a connection. He said while he loves acting and wants to act and direct, he saw a connection with psychology and theater.
     "I felt that understanding psychology and how the mind works and really why we do the things we do, why we say the things we say, why we act the way we act, or why we just live and exist the way we do, I saw those are things I can take and
learn more about and put that in with what I want to do with acting and directing. Because I feel those kinds of things will make it more natural, they'll make whatever stories I continue to tell more authentic, more real and will just help me overall," he said.