Rush, Bacon Introduce Legislation To Honor Emmett Till and Mamie Till-Mobley With Congressional Gold Medal
4/14/2021, noon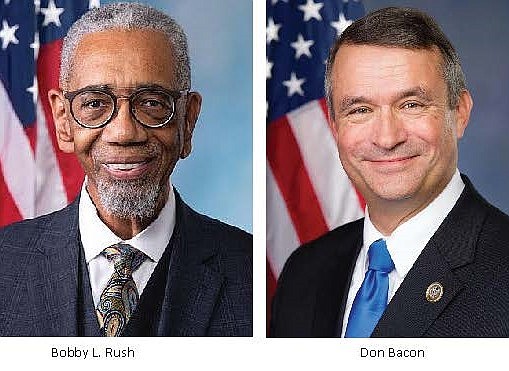 Rush, Bacon Introduce Legislation To Honor Emmett Till and Mamie Till-Mobley With Congressional Gold Medal

      U.S. Representatives Bobby L. Rush (D-Ill.) and Don Bacon (R-Neb.) introduced H.R. 2252, legislation that would award a Congressional Gold Medal to Emmett Till and Mamie Till-Mobley, the mother of Emmett Till and a tireless fighter for civil rights and racial justice.
     The Congressional Gold Medal is awarded as a national acknowledgment of renowned persons, institutions, or events. Companion legislation was introduced in the Senate in February by U.S. Senators Richard Burr (R-N.C.) and Cory Booker (D-N.J.).
     "When the photo from Emmett Till's funeral ran in Jet, I will never forget how my mother gathered us around the coffee table and told us 'That's why I brought my boys out of the South.' Mamie Till-Mobley's courageous decision to hold an open-casket funeral for her son forced America to confront the brutal truth of racism, galvanized the civil rights movement, and helped put America on the path to becoming a fairer and more just country," said Rush. "I thank Representative Bacon for joining me in this effort in supporting Emmett Till and Mamie Till-Mobley's legacy."
     "It is fitting that this medal be commissioned so our nation recognizes the horrendous lynching of Emmet Till and the legacy made by his mother Mamie Till-Mobley, in her noble quest for justice for her son. We can never and must never forgot his story, and the stories of the over 4,700 victims of lynching who experienced racial terror in this country. This is a meaningful step in the right direction of addressing our past, acknowledging mistakes, and using those lessons to better ourselves and our country. I thank Rep. Rush for asking me to join him in this important recognition," said Bacon.
     Mamie Till-Mobley's legacy is also felt through the Emmett Till Unsolved Civil Rights Crimes Act, which allowed the reopening of cold cases against individuals who committed heinous, racially motivated attacks prior to 1980. The legislation was first signed into law in 2008 and reauthorized in 2016.