GIVEAWAY PROVIDES COMMUNITY WITH MUCH NEEDED GOODS
4/7/2021, noon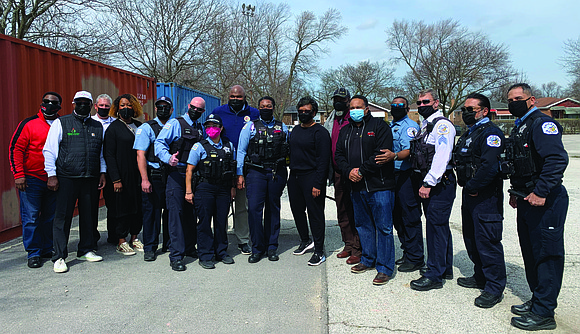 Giveaway provides community with much needed goods

BY TIA CAROL JONES
    "Have you ever seen anything like this in your life," asked Larry Huggins, founder of Christmas in the Wards, while people set up for the Burnside Giveaway.
     In one section of Harold Washington Elementary School's parking lot people stacked diapers on a table, while other people unwrapped mini refrigerators. In another section, a forklift unloaded a large truck. In another section someone fried fish.
     The Burnside Giveaway was presented by 8th Ward Alderman Michelle Harris, along with Christmas in the Wards, Black Men United, Proviso Leyden Council for Community Action, 4th District Cook County Commission Stanley Moore and 17th District State Senator Elgie Sims. The event took place at Harold Washington Elementary School, located at 9130 S. University.
     There were 1,248 boxes of food, 150 refrigerators and 100 crock pots given away. Five eighth grade students from Harold Washington Elementary School received laptops as a reward for having 99 percent attendance. There also were 8,000 coats given away. The total was $112,478 in goods given away at the event.
     "This is one of my neediest sectors in the ward and so it's really important that people think that folks care about them. Part of what we did today was to clean up in the community. A clean community represents people who care and love their community. And, also bring the resources that are needed here. That's what it's all about, helping people that don't have the resources," Harris said.
     Harris said one resident told her the refrigerator that was given away was something she really needed because her refrigerator stopped working.
     "It's those kind of things, when you listen to people's story, you don't even know they are struggling and you're able to help somebody. That's what I'm happy about, that we'll be able to help people," she said.
     Huggins said Christmas in the Wards has been partnering with Black Men United all across the city to host food and goods. He said Black Men United is not just helping families but the entire community, with food, personal protective equipment and doing COVID-19 testing.
     "These are all the things the community actually needs. To have that kind of program come together at one time, at one place, its unheard of. And, one of the reasons why we wanted to do it with Alderman Michelle Harris, and she is family-oriented," he said. "It's remarkable. And, this is something, with Christmas in the Wards, all year-round. So, instead of doing it in December, at Christmas, every month we're going to do something."
     The Reverend John Harrell is the president of Black Men United and the pastor of Proviso Missionary Baptist Church, in Maywood. He said the goal of the organization is to tell a different story about Black men and change the narrative.      "Since the pandemic, we have done over 120 events across the city of Chicago and the surrounding suburban areas. We are in 37 states, 61 different urban cities, just trying to help our brothers and sisters in the time of this pandemic. I thought that I should come and get with Alderman Michelle Harris because I have a great working relationship with her and I just wanted to do something special for her community," he said.
     Congressman Bobby Rush said that while everyone at the event was socially distanced and masked up, they were all coming together to serve the community. "Larry Huggins and Black Men United and Alderman Michelle Harris, 8th Ward Democratic Organization, they are really leading the way. They are the tip of the arrow as it relates to giving back to the community. This is a blessing to the entire community," he said.
     Sims said it has been a very difficult and challenging time and the community needs help. "Hopefully, we're at the end of this pandemic, but this is what family does. Alderman Harris, Commissioner Moore and I wanted to make sure we came out, supported the community. We want to thank our partners who stepped up with us to participate in this moment, because we want to show everybody that we've got each other's backs. In order for a community to be strong, we have to stand up together," he said.