MURAL WELCOMES VISITORS TO STATE REP'S OFFICE
9/16/2020, noon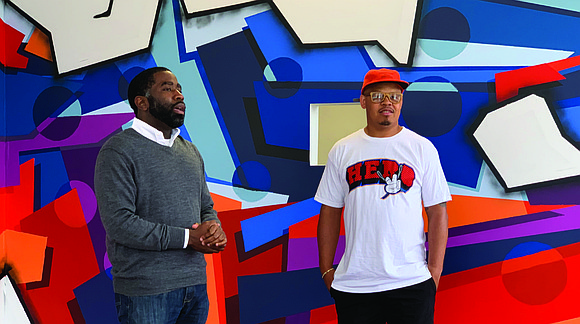 Mural welcomes visitors to State Rep's office
BY TIA CAROL JONES
Illinois State Representative Marcus Evans' office, located at 8500 S. Stony Island, is now a place where visitors and passersby can enjoy public art. Artist Quentin Crockett created a mural in the entry area of the office.
Evans said he followed Crockett on social media and they had mutual friends, so he decided to reach out to him. He found out that Crockett lives in the South Suburban part of the 33rd District, which Evans represents in Springfield.
"Wow, I['ve] got this constituent, he's a great artist. He's familiar with the neighborhood, got a lot of friends here," he said. "We've got to inspire people. I think art is very important."
Evans went on to describe the mural as "public art in a public office." He said he likes to be inspired by the murals that he sees in other places. "I said, when people come in this office, or drive by, something should inspire them - if not the thought of good public service - maybe just the thought of a picture," he said. He added, "art has a healing point."
Evans said people should know good people who are doing good things in the neighborhood. "A lot of our kids gotta see that 'hey, I may want to be an artist.' They may not be interested in being a politician, they may want to be an artist, and I can help connect that bridge as well."
Crockett said when he was younger, because of his competitive nature, in art class, he wanted to have the best drawings, paintings and sculptures. He said as he got older, he decided to go to school to study art. He ended up going to the military after high school and his unit was in the ground war in Iraq.
Crockett said after he returned, he was painting. Then, he realized his paintings were his form of therapy. "It was my comfort zone, it cleared my head," he said. "It was like it was an escape for whatever was bothering me. I had a place where my mind could go somewhere else. It was like an outlet."
Crockett graduated from Governors State University with a Bachelor's Degree in Fine Arts. He said music and colors inspire him. In his work on the mural, he said he paid attention to architects and their use of lines and shapes.
Crockett added he wanted to use lines, shapes and colors to help make the mural flow, from warm colors to cool colors, and lines and shapes to show form. He said the colors are meant to make people feel energetic, adding, with a lot of his murals, he makes them so people can help him. While providing some direction to people who are helping him, it becomes an opportunity for them to work together. "At the end of the day, I'd like to do more community-based projects with my murals," he said. "I want everybody to feel like they're a part of it and get a sense of pride when they're finished."
Evans said public art is very important and can have a major impact on people in the community where it is created. He said he wants people to enjoy the mural.
"It's up for your interpretation. I want every person to drive by and get a different view," Evans said. "Maybe it can be a conversation piece. It can bring people together. It can do what art does. I think we should throw art in these spaces. We['ve] got art in churches, we['ve] got art in streets, why not in public offices?"