UNIVERSITY EXPANDS ENROLLMENT OPPORTUNITIES
9/2/2020, noon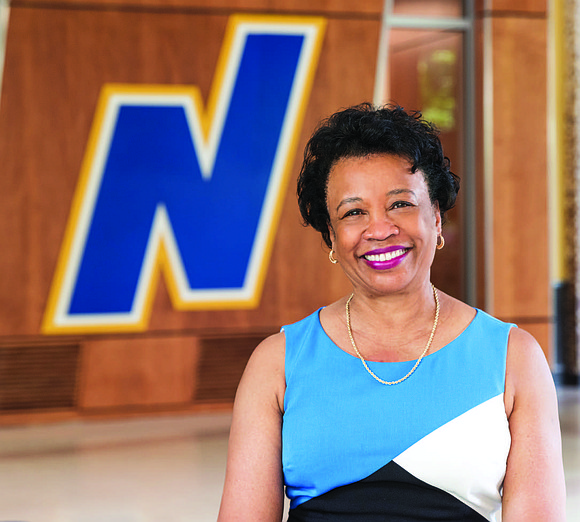 University expands enrollment opportunities
BY TIA CAROL JONES
Northeastern Illinois University wanted to make sure students of color were not left behind when it came to opportunities to enroll in the university, so it came up with ways to be more inclusive in its admission process.
In an effort to simplify the enrollment process, Northeastern Illinois University eliminated standardized test scores as a requirement of undergraduate admission to the university, after it saw it might be an obstacle to students pursuing a college degree. This pertains to its fall 2020 first-time incoming students who have a high school grade point average of 2.5 or higher.
Dr. Gloria Gibson, president of Northeastern Illinois University, said the state legislature began looking into the issue, but NEIU started looking into it last summer and into the fall.
The university looked at the data and it revealed standardized test scores weren't the best indicator of a student's success. "SAT and ACT scores do not always accurately predict the success of students, and especially for students of color. For us at Northeastern, we just felt that it was time for us to take a serious look at eliminating this requirement because it historically has hindered students from pursuing higher education and there are other metrics in place," Gibson said.
She added that those other metrics include grade point average, the overall accomplishments of high school students as well as placement tests. Gibson said the hope is that it would increase enrollment.
The university can't gauge the degree at which elimination of the standardized test has affected enrollment because of COVID-19. She said some students have chosen to take a gap year due to coronavirus.
When it comes to COVID-19, the university has come up with a plan to keep students, faculty and staff safe. Gibson said back in the spring, the university transitioned to online and remote learning, and also started to plan for the academic year.
She added the institution made the decision early on, not to have the majority of the students back on campus this fall, adding the majority are commuter students.
"We just felt is was safer [and] in the best interest of our faculty, staff and students, that we do online for the fall. About 90 percent of our classes are being held online or [where there is] remote learning," she added.
Gibson said the only courses being offered on campus are a few performance classes and a few science labs. She said the proper Center for Disease Control and Prevention Guidelines are in place and the university produced an operating guide for the campus, so that the university population would know how to navigate what services are in place this fall.
"We were able to take some of our CARES Act funding to make sure that our buildings were sanitized and fogged and that they are safe. For some of our offices, we've installed plexiglass. We have PPE (personal protective equipment)," she said. "We are opening up some study spaces for students because for many of our students, whereas they may have a chromebook or iPad, some of them do not have the high-speed internet."
Gibson said a survey showed students wanted a quiet space to study. Students interested in the study space have to make an appointment. The university also has a COVID-19 Task Force, which started work at the end of February or at the beginning of March. At first, the task force met everyday and now they meet three times a week and they met all through the summer.
"They have provided excellent information and protocols, procedures, for the campus to follow, so I feel that, and I would think that most of our students, faculty and staff would echo, the fact that because we have a very active task force, they feel safe coming to campus or communicating concerns they may have," she said.
Northeastern Illinois University also has established the George Floyd Social Justice Scholarship, which is for students who are pursuing leadership roles in social justice work. Gibson said it was the right thing to do for Northeastern because the university has a social justice focus.
"Our demographics really speak to issues of social justice," she said. "This was a perfect opportunity for us to start the George Floyd Social Justice Scholarship."