CO-FOUNDER OF CHIGIVESBACK WANTS TO INSPIRE OTHERS
10/28/2020, noon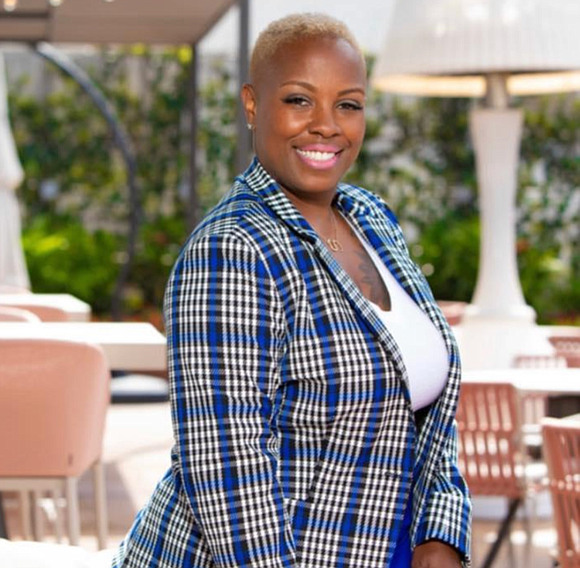 Co-founder of ChiGivesBack wants to inspire others

BY TIA CAROL JONES
     Sandi Robinson, co-founder of Chi- GivesBack, knows the importance of raising funds to provide resources. She also knows the importance of having a good team to support you in your endeavors.
     ChiGivesBack was founded in 2018 by Robinson, Kouri Marshall and John Boddie. The organization got its start with a toy drive that Marshall coordinated.
     It was something Marshall had done when he lived in Washington, D.C., but on a smaller scale. Robinson, who was looking to get back into participating in social organizations, said the toy drive was "the perfect opportunity." It turned
out incredibly, she stated. "We raised money and much more toys than we initially thought it would."
     Robinson said the one feel good event lit a spark. After that, they wanted to do more events and figure out more ways to give back to the community. That's when ChiGivesBack was born.
     ChiGivesBack's mission is to improve the welfare of the global community through innovative charitable experiences. Its vision is to empower, inspire and influence people to give
back to others.
     "The most important part is being able to inspire other people to give back, as well. We definitely make a huge impact with teachers and students and people suffering from homelessness. It really boils down to, if we can inspire other people to do the same, then that's where you really start
to see the difference," she added.
     Robinson said the work the organization does really makes an impact in the community. She said people come up to them during the events they coordinate and thank them for the
work they do. She said the organization finds the niche and tries to fill that void.
     "Just seeing the response from people and really understanding, wow we've made a difference. We've seen
exactly what we've done and that's why we always encourage people to come out and volunteer with us." She said it's
one thing to give money. It's one thing to say I've donated, but its another thing to come out and have that hands on experience," she explained.
   Robinson said when people have the hands-on experience and see the impact for themselves, it encourages them to continue to stay involved.
     Teach2Give is one of ChiGivesBack's initiatives. It was the second event after the toy drive. It started out as an idea
to do a bookbag and school supply drive. Then, Boddie thought it was a good idea to do something for teachers.
     Now, people can nominate their favorite Chicago Public School teacher where the top teachers are selected.
     This year, 25 teachers were selected. Last year, 75 teachers were selected.
     Robinson said it's a humbling experience and represents a demographic of people who are not normally recognized.
Recipients of Teach2Give are given teacher kits, with different supplies.
     They also are able to get $100 of whatever they want. Robinson said the boxes look different this year. There
are sanitizing products, masks and thermometers.
     Robinson, who is also director of sales at the Godfrey Hotel, said people really want to help, they just
want to know how, where and who is providing the platform. She said the hospitality industry has been really great to ChiGivesBack and ChiGives- Back has been able to give back to the hospitality industry as well through the COVID-19 Hospitality Relief Fund. "We had to do something, so we were able to give $100 gift certificates to 75 people in the hospitality
industry," she said.
     Robinson said she has learned that teamwork really does make the dream work. It's also important to have a
great staff and group of volunteers who are not just there, but who are there because they want to help. 
     Robinson said they run into to people all of the time who want to help out. She said each time they encounter people looking to lend a hand, "it feels so good because this is what it's all about," she stated. "Getting people out there [and] making a difference."
     For more information, visit chigivesback.
com.