ORGANIZATION CONTINUES TO MAKE IMPACT ON COMMUNITY
11/18/2020, noon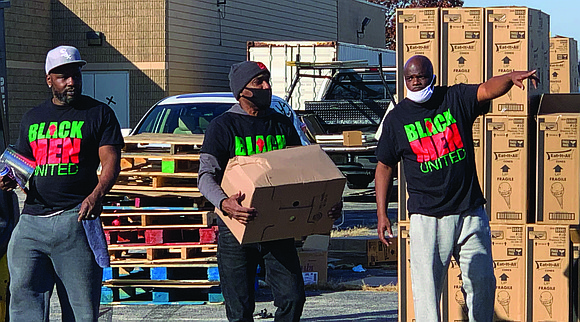 Organization continues to make impact on community

BY TIA CAROL JONES
      Christmas in the Wards, the 501c3 nonprofit led by Larry Huggins and Everett Rand, continued its longstanding tradition of helping out those in need by passing out food and other goods during two events, one at Soldier Field and the other at Universal Entertainment Center.
     Rand and Huggins are also known for their successful annual Chicago Football Classic that brings Historically Black Colleges and Universities' football teams and bands to Soldier Field for a game in the fall. This year, due to COVID-19, a game did not take place, but there were virtual events and the organization gave scholarships to students.
    Beginning in October, Christmas in the Wards also hosted four events where they gave more than 6,000 boxes of food. They teamed up with New City Hope Church in Wheaton, as well as Black Men United. "That's why we were able to, instead of giving away 1,000 boxes of food at each location, we were able to give 2,000 boxes of food," Huggins said.
     The Reverend John Harrell is the pastor of Proviso Baptist Church in Maywood and co-founder of Black Men United. "This event today is a collaboration of some awesome partners, that was spearheaded and our chieftain is Larry Huggins, president of Riteway Construction, as well as Christmas in the Wards, and Chicago Football Classic. What him and his partner, Everett Rand, does is they go around the city and just bring a ray of hope," he said. "And what they've done is they bring various partners together, like Walsh Construction, Starbucks, the Chicago Police Department, all of the various Alderman around the city of Chicago and just bring hope to the people in a time of pandemic."
     Harrell said the people drove in, drove up and drove by and picked up masks, hand sanitizer, socks and food. He said Black Men United wanted to be involved to be a blessing to the community and he's glad Huggins reached out to the organization to contribute to an effort that has been going on for 24 years. "I'm just glad he reached out to us to extend a bridge and continue to build bridges throughout the city, bringing partners and relationships together to help those who are underprivileged and underserved and unfortunately those who are hit hardest by this time of pandemic," he said.
     Harrell said at the United Center event, there were more than 3,000 people served. At the Solider Field event, there were 3,200 people served and at the Universal Entertainment Center, there were 4,400 people served.
     Anthony Prince, a member of Black Men United, described the event as "epic."
     "Anytime you can come out and feed your people and bring good men and our flowers, which are our sisters, together, that's what Black Men United are here for," he said. "We wanted to give back to our communities so this was one way to give back from the South side, West side, East side, Black people all over the world."
     Prince said that Black Men United was formed to stop the generational curse of each generation having to start from scratch all over again. He said he was glad to be part of the event.
     Huggins said a Christmas in the Wards event will still take place in December, but they wanted to do something in the meantime to let people know they cared.
     "There are families that are really struggling and unfortunately a lot of people don't like to talk about the pains and issues and things that they're going through. We're able to do this, it just satisfies a lot of needs. I feel good about it," he said.